I'm no longer studying, but I just want to share a nice bag that I purchased recently. It's not because I wanted a new bag, but because my old bag suddenly got broken on my way home. It was awkward to carry the broken bag around so I decided to just buy a new one and transfer my things there before I go home.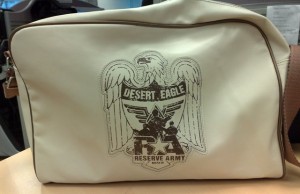 (front view)
(back view)
I remember I was asked by a reader to suggest a new bag for school. This one is a good one. Though these dirty white messenger bags have been around for quite some time as popularized by Bench, they are still one of the most stylish bags to date. If you are still a student, it's not yet late for you to shop for school bags because many classes are still suspended due to the pandemic alert.
Discuss the latest in men's style at the PGG Forums or Subscribe to Pinoy Guy Guide mailing list to receive the latest updates.