It was a tough moment for The PGG Show Your Style Team (sponsors, friends and I) to help determine Season 3's winners. Everyone is really good and has the potential.
Season 3 lasted for about 4 months. It is by far the best and longest season yet because aside from a bunch of talented and stylish guys who joined, I received close to a hundred entries in my email. And it is not an easy task reviewing each entry. I wish I could have published everyone at the blog and let them win, but we really had to narrow it down further and further to determine the top 10.
Now without further ado, here are the winners of PGG Show Your Style Season 3. Drum roll please.
Minor Prize Winners
Let's begin with minor prizes. The minor prize winners are individual entries who made it to the Top 10. Each minor prize winner will receive a free haircut / makeover at HQ Barbershop, one of the sponsors of PGG Show Your Style Season 3.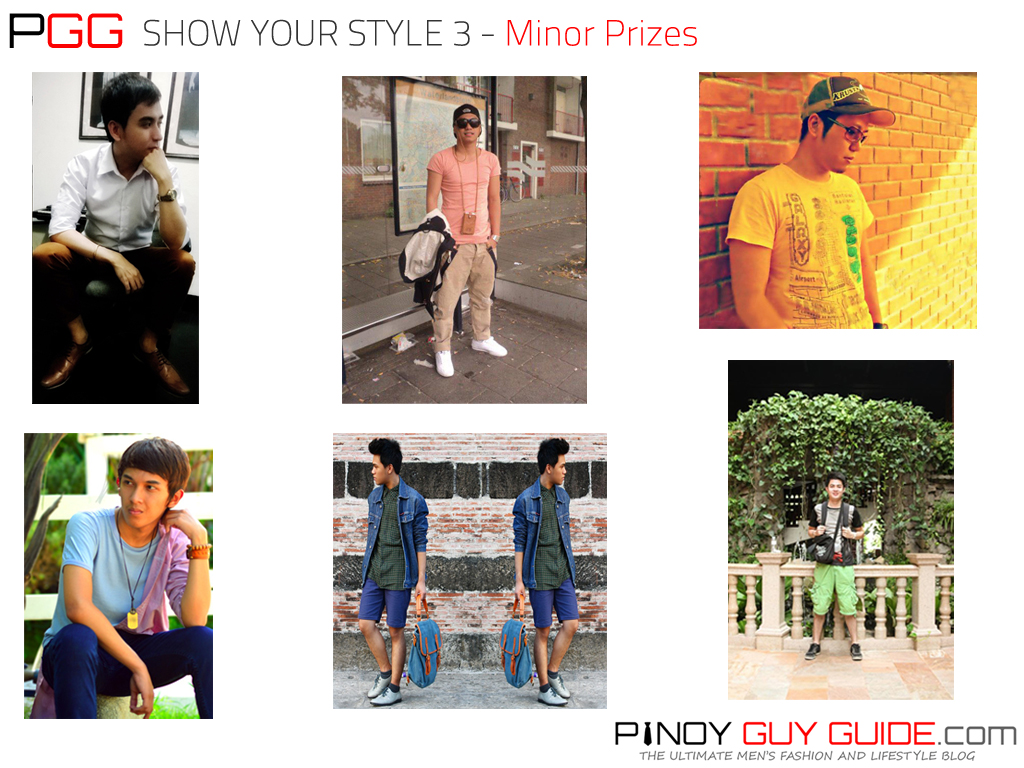 Pictured from left to right, top to bottom, the minor prize winners are:
Special Award: The most liked and most shared style entry
This is a single individual entry who got the most likes and most shares in social networking sites such as Facebook and Twitter. The special prize winner will receive a Philips earphones from Pinoy Guy Guide and also a free haircut at HQ Barbershop.
And the special award for the most liked and most shared style goes to… William.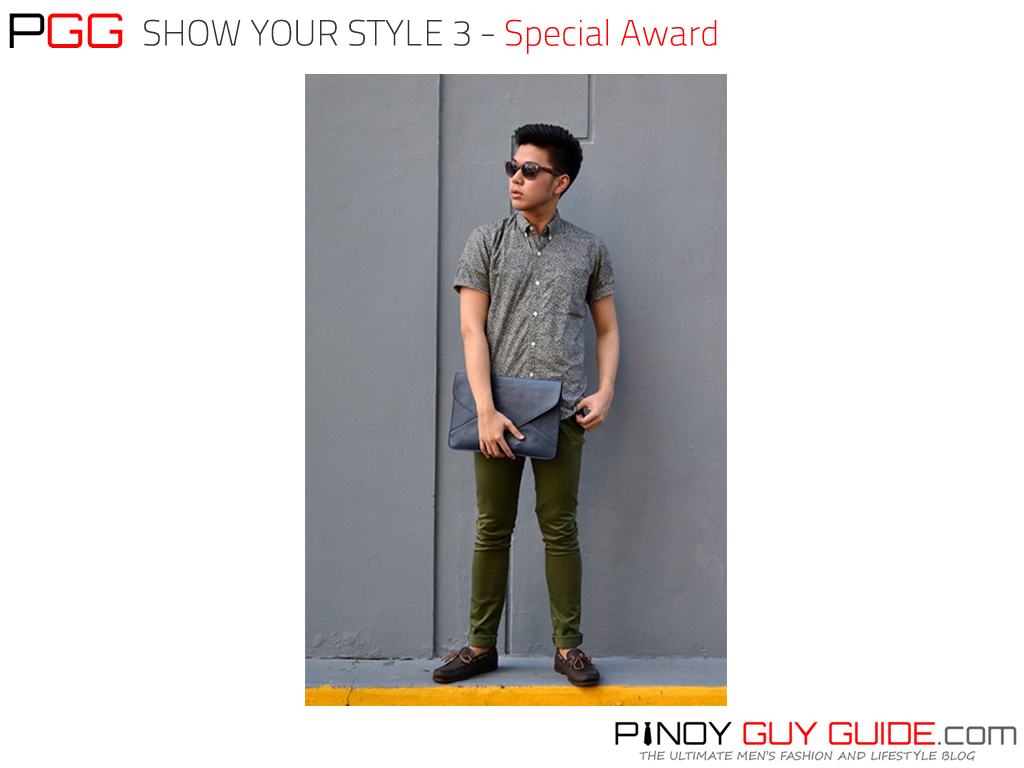 Read William's full entry here.
THE STYLISH TRIO – Grand Prize Winners

For Season 3, our major sponsor BIRKENSTOCK German Footwear in the Philippines is giving away a whopping 5,000 Pesos worth of Birkenstock Footwear GCs for each winner. So unlike the past two seasons, this time, we will have three grand prize winners for PGG Show Your Style 3. These entries are the Top 3 entries of this season.
And THE STYLISH TRIO Grand Prize Winners are:
VIVREN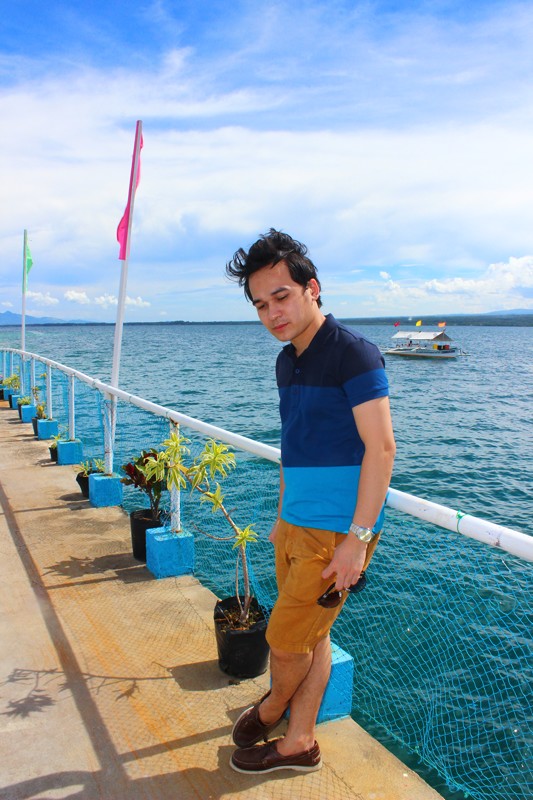 "I always go with fashion and function. Dress to express and wear what is appropriate to an occasion. Be simple but elegant. Show some swag but don't forget your personality. I am an auditor so I wear the tie when I'm at the office. Yet one must know when to be preppy and when to wear that swag on you."
-Vivren for PGG Show Your Style Season 3

BIBO

 "Function and Style should always go hand in hand when buying clothes. If you have a busy lifestyle (like having an 8 to 5 work at day and meeting or night out with friends afterwork) go for clothes that commands respect– classic and elegance;you'll never go wrong with white tops! Just add some good buys accessories (a signature bag is both essential and functional too) and you will look classy yet grounded."
– Bibo for PGG Show Your Style Season 3

Read more of Bibo's winning entry here.

JOEL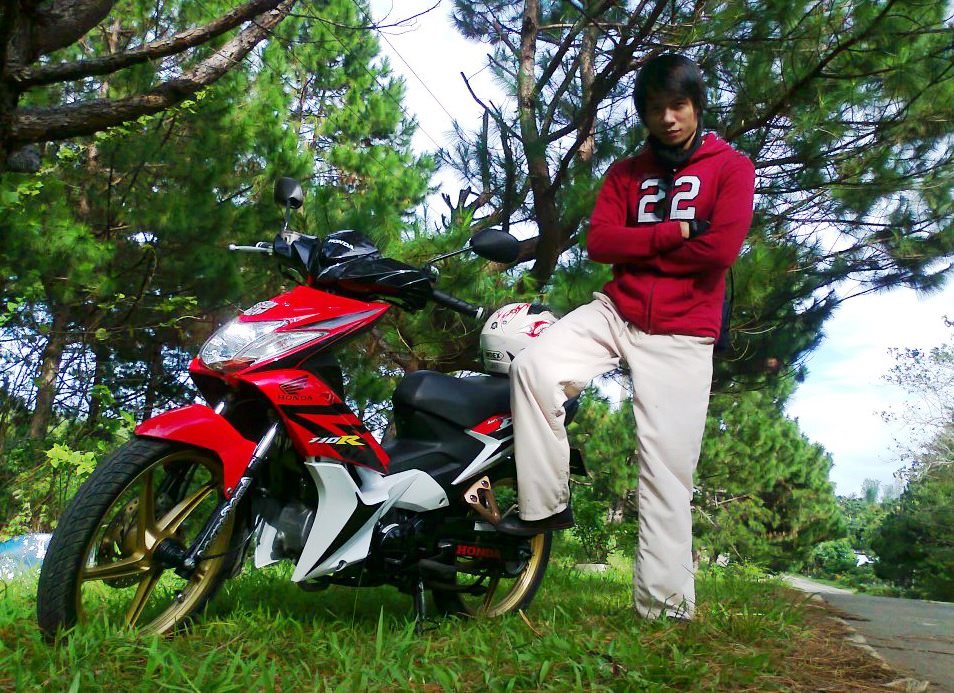 "I usually choose clothes that are comfortable to wear and with a hybrid of retro and metrosexual fashion. Though I prefer retrosexual or the "hip" style, I am also flexible to any type of fashion as long as it is presentable and suits my personality. Lastly, I also consider the price. It doesn't need to be pricey just to have a "good look" – It's how you carry yourself." 
– Joel for PGG Show Your Style Season 3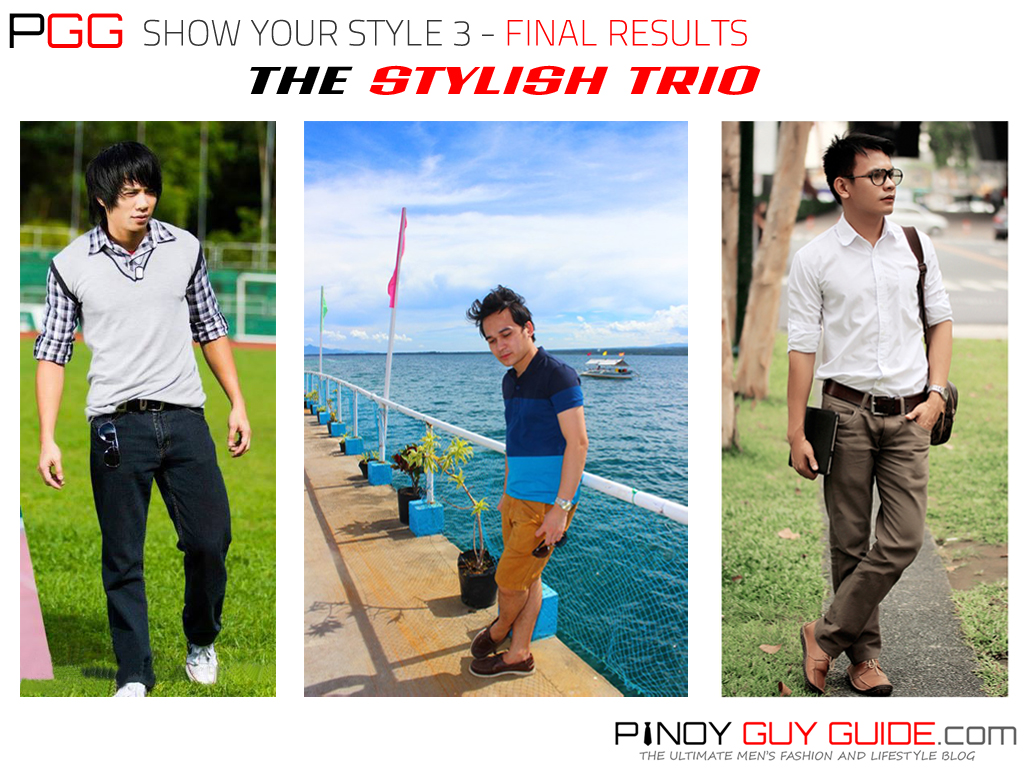 Congratulations to all the winners of PGG Show Your Style Season 3. Please wait for an email from me on how to claim your prizes.
Here is a little trivia: Did you know that aside from me and the sponsors, I've asked a number of my single female friends to help pick the winners? We figured out that a woman's perspective will help our team in determining what style and attitude "attracts" most women. This will serve as a guide for all the Pinoy guys out there.
Thank you to all those who supported and sent their entries to PGG. In your own way you have helped inspire other guys to dress up well and increase their confidence in meeting women. Thank you for sharing my vision in helping other Filipino guys to be stylish too and to be their best selves.
Thank you also to our major sponsor Birkenstock in the Philippines (c/o Ms. Jenny), to our early-bird prize sponsor, Penshoppe at the Philippine Fashion Week and also to our most recent sponsor, HQ Barbershop (c/o Paul, Andrew and Andrea) for giving free haircuts.
Last, but not the least, I'd like to thank God for helping make the Show Your Style 3 project a success.
That's all dudes. See you all next season!
Want a "Guide" to your style? Subscribe now to Pinoy Guy Guide on Facebook, Twitter and Instagram.
You can also enter your email here to get the latest updates. Need advice from another bro? Join the PGG Forums.