Some guys just don't like the atmosphere and ambiance inside the gym. Depending on the gym that you go to, there are some people there who would tend to measure you up and if you are the kind of guy who hates that, then you better check this out.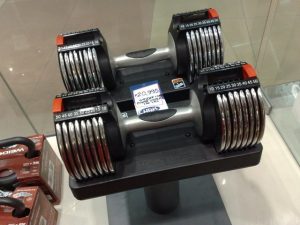 Meet the Weider Powerswitch 100. A complete set of dumbbells with plates of up to 100 lbs and comes with a stand. So if you have enough money to shell out and you're just not too comfortable working out at the gym with strangers, this one is for you.
So where did I see this? I found this in CHRIS Sports in SM (disclaimer: I don't own that store) while I was looking for a birthday gift for my brother a few weeks ago. Before you decide to buy this equipment, I suggest you first look for online reviews because like any other product, I've seen both positive and negative reviews. There were praises saying that it is an excellent product and there were also comments saying that it is not safe for beginners. Maybe you should try it for yourself and see if it is suitable for you.
To get the latest in men's fitness, Subscribe to Pinoy Guy Guide. Got Facebook? Click here to become a fan!