Over the news, a controversy about skinny jeans and its harmful effects to men's health are circulating around.
Telegraph, along with ABSCBN News, reports that skinny jeans on us males cause Urinary Tract Infection (UTI), jock itch and the unthinkable worst – twisted testicles and low sperm count.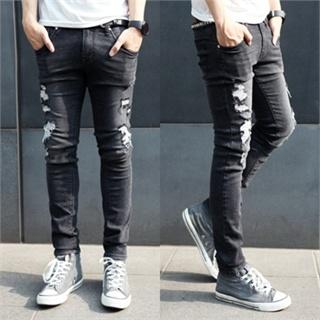 Image credits: YesStyle | For illustration purposes only

I was reading the article here and according to Dr. Hilary Jones from the UK, twisted testicles happen when very tight jeans prevent your spermatic cord from moving freely thereby cutting off blood supply to the tissues. It requires surgery. Ouch.
I know that rockstars and most of the stylish dudes out there wear skinny jeans so if you are one of them, take it easy next time. If you can't help not to wear skinny jeans, make sure to choose one which is a bit more comfortable in the groin.
I remember I mentioned in my blog post here that although skinny jeans look cool, it really feels horrible in the crotch area. Now that is exactly why I prefer slim-fit jeans. They look close but they are looser and more comfortable to wear. And the best part of it is that you'll save your balls from the trauma and you are guaranteed to have offspring in the future.
For more men's style and health tips, join the discussions at the PGG Forums.
Connect with Pinoy Guy Guide via Facebook | Twitter | Email Subscription