A few years ago, I worked at The Fort BGC and I remember how, during that time, the best nightclub in the city was Embassy Superclub, which was later rebranded as Encore. Encore lasted for about 2 years and then we saw the rise of Republiq in Resorts World in 2010, followed by 71 Gramercy in Makati in 2013.
Near the end of 2014, news broke that Republiq was closing down and people wondered why. After a while, we discovered that the reason for this is that the management behind Republiq is opening up a new attraction. That new attraction is "The Palace", a brand new nightlife complex located in Uptown Bonifacio Global City.
The Palace has one huge building comprised of six main attractions namely…
Valkyrie Nightclub
It's the new home club of VIPs, celebrities, socialites, the young and the hip. Valkyrie Nightclub opened at The Palace last November 2014. I've read somewhere that it was hailed as one of the best clubs by DJ Mag Top 100 Clubs. They ranked #1 in the Philippines and 75th in the world. Not bad.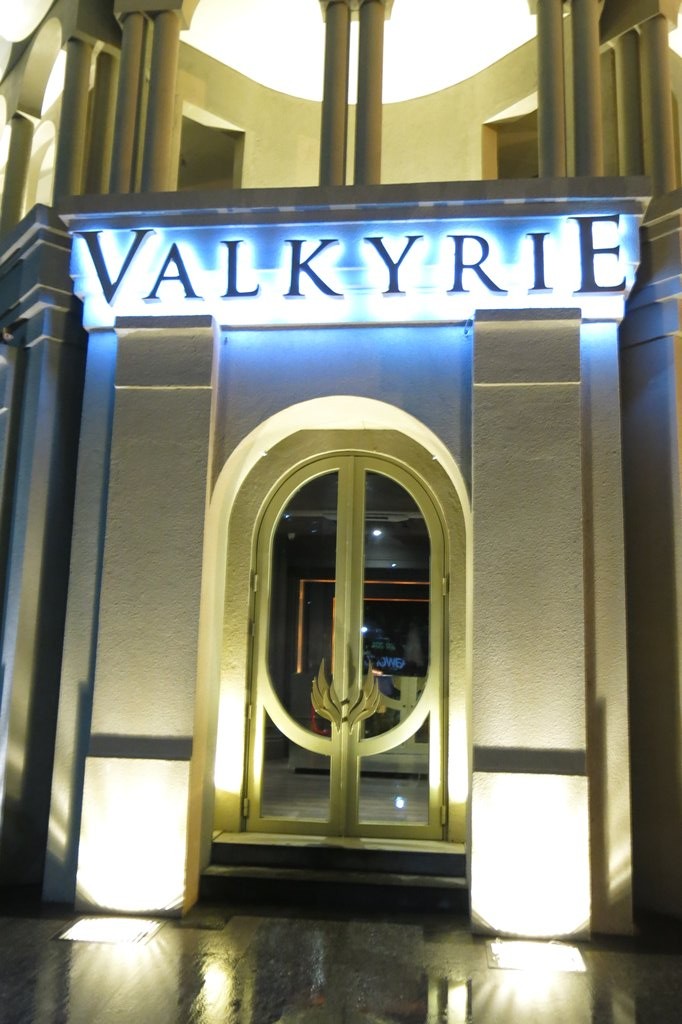 The club can hold up to 2,500 people and is open from Wednesdays to Saturdays from 10 PM onwards. For inquiries and reservations you can call them up at +63 917 680 8888 or visit valkyrie.thepalacemanila.com
Interesting fact: I've learned from a girl that I'm dating that the crowd in high-end bars and clubs like these has a 2 is to 1 female : male ratio. Yes guys, more females!
And it's not a coincidence. Normally, the management of clubs count the number of guests and limit the entry of males once they feel it will break the 2:1 female/male magic ratio.
For quite some time, I wondered why on earth they would do something drastic like that. But after thinking about it, I think I now know why. Picture this out: If there are more guys than girls, then a couple of things will happen: One, is that having more men than women in the club will scare and drive the girls away. Two, is that the guys will likely get into a brawl because they will compete in picking-up the very few women available in the club. To avoid all that trouble, clubs like these usually maintain a 2:1 female/male ratio. It is the sweet spot after all and it makes sense, doesn't it?
The Palace Pool Club
Perhaps the most unique and one-of-its-kind club here in Manila is The Palace Pool Club located at the heart of the complex, beside Valkyrie.
I was amazed when I saw the place. Imagine partying in the midst of two swimming pools surrounded by cabanas and bars serving hard drinks. How awesome is that?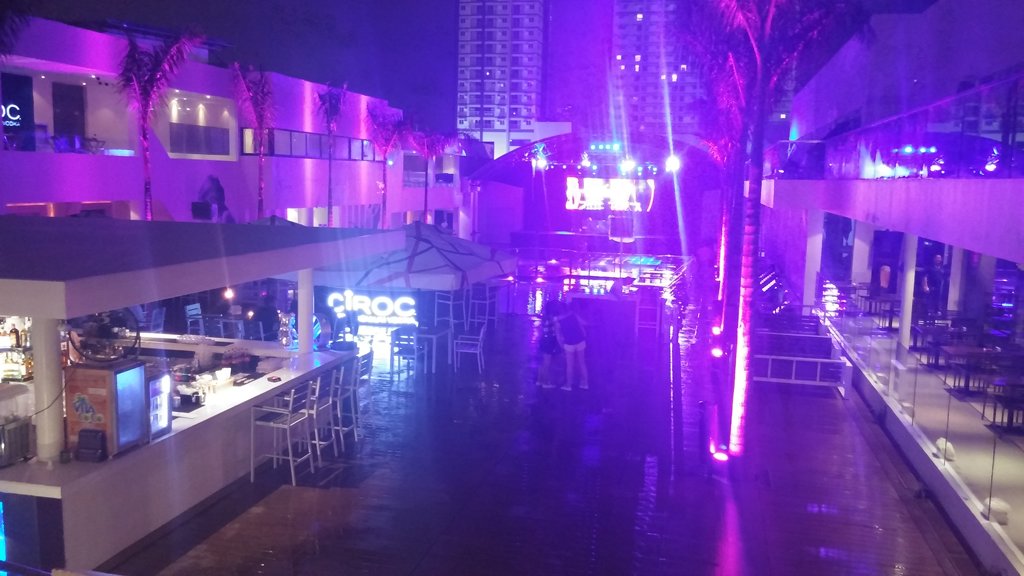 And it doesn't stop there. There is a stage in front and a booth on the side where DJs can play cool music and make everyone dance while submerged in the swimming pool. Here's a video clip from this year's Alesso concert at The Palace Pool Club.
The Pool Club is open from 11AM in the morning to 3AM the next day. For inquiries and reservations you can call +63917 689 8888 or visit poolclub.thepalacemanila.com
Cafe Naya at The Palace
Not everyone is into bars and clubs. If Valkyrie and The Pool Club are not your thing then I suggest you check out Cafe Naya, an upscale restaurant at The Palace.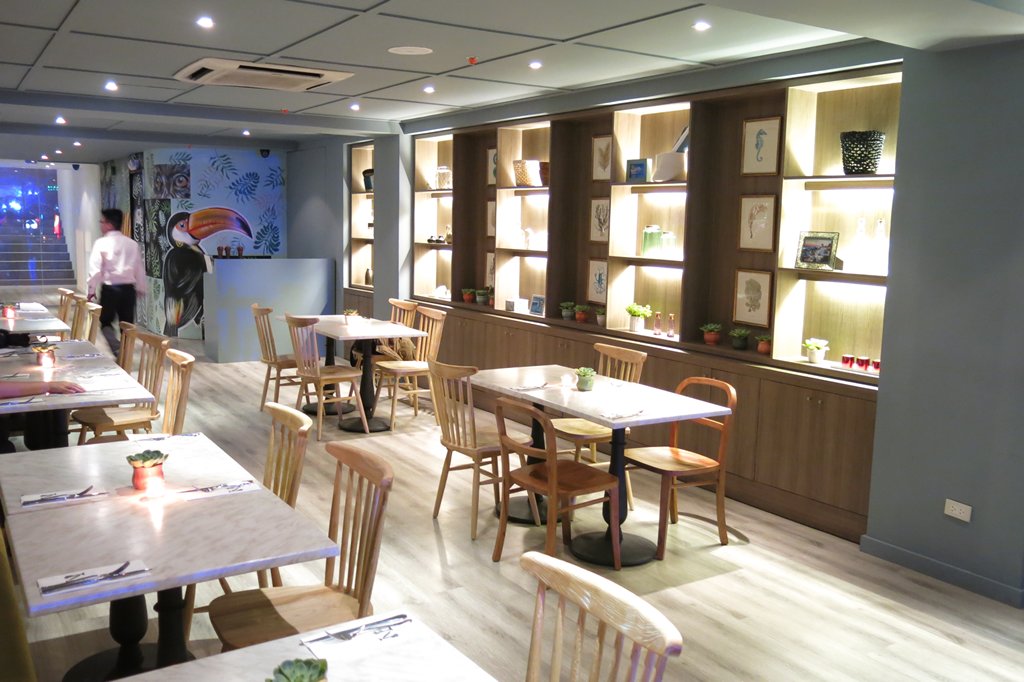 Cafe Naya specializes in coastal cuisine ranging from Mediterranean, Northern African and European Island dishes. The menu was arranged and crafted by Chef Mikko Reyes, the man behind the kitchens of Hungry Hound, Niner Ichi Nana and Valkyrie.
Shown here are their menu samples which my friends and I tried when we visited. Very promising and something which you should try for yourself.
The resto opens from 11 AM onwards. It is a good place to dine with colleagues during lunchbreaks and also a cozy place to take your girlfriend for evening dates.
You can inquire and make reservations at Cafe Naya by contacting +63 917 550 9999.
The Brewery
The Brewery is an establishment at The Palace which has a unique concept of brewing its own fresh beer and serving their own pub food. It can allow up to a maximum of 400 guests. Their location is strategically located within the complex so that it faces The Pool Club. This view allows their guests to watch the bands and DJs spinning house music.
For inquiries and reservations for The Brewery, you can contact them at +63917 638 3339.
Revel and Ronin (Coming Soon)
When we were there at the complex, we've also seen several more ongoing constructions in the area. As confirmed by their management, they have two more attractions opening this year which are Revel (a luxury lounge) and Ronin (a high-end Japanese restaurant). Subscribe to Pinoy Guy Guide by email for free to get the latest updates to these new attractions.
As you can see, The Palace is one of the best hangout places this year. If you ever wondered if you can hop between Valkyrie, The Pool Club and the other attractions in the area, well you can. I was told that they have a "crossover" entrance fee so you can hop to different bars within the complex.
Like PGG on Twitter, Instagram and Facebook for the best and latest in men's lifestyle.