I suppose that once in your life, you have dreamed of owning a luxury watch like Rolex, Tudor, Omega or even Cartier.
The problem? 90% of guys couldn't afford it. And to be completely honest with you guys, I belong to the 90% that couldn't afford those as well.
But isn't that the point of why it's called a luxury watch in the first place? It's something that only the elite could afford?
Because the reality is that, luxury watches are meant to serve as status symbols. They are an expensive piece of men's jewelry that is limited and something that not everybody has the means to splurge money on. In fact, some luxury watches have a price tag that is almost equivalent to an entry level car. Heck, if you were given a choice, I'm absolutely sure that you'd pick having an entry level car over a luxury watch, right?
But maybe that's just me because I'm not super rich to afford all that.
However, not earning a million dollar paycheck is not a reason for you to not have a quality, exclusive and elegant watch because today, I just discovered a new brand of affordable luxury watches that is a game changer in the watchmaking industry.
Meet Filippo Loreti Luxury Men's Watches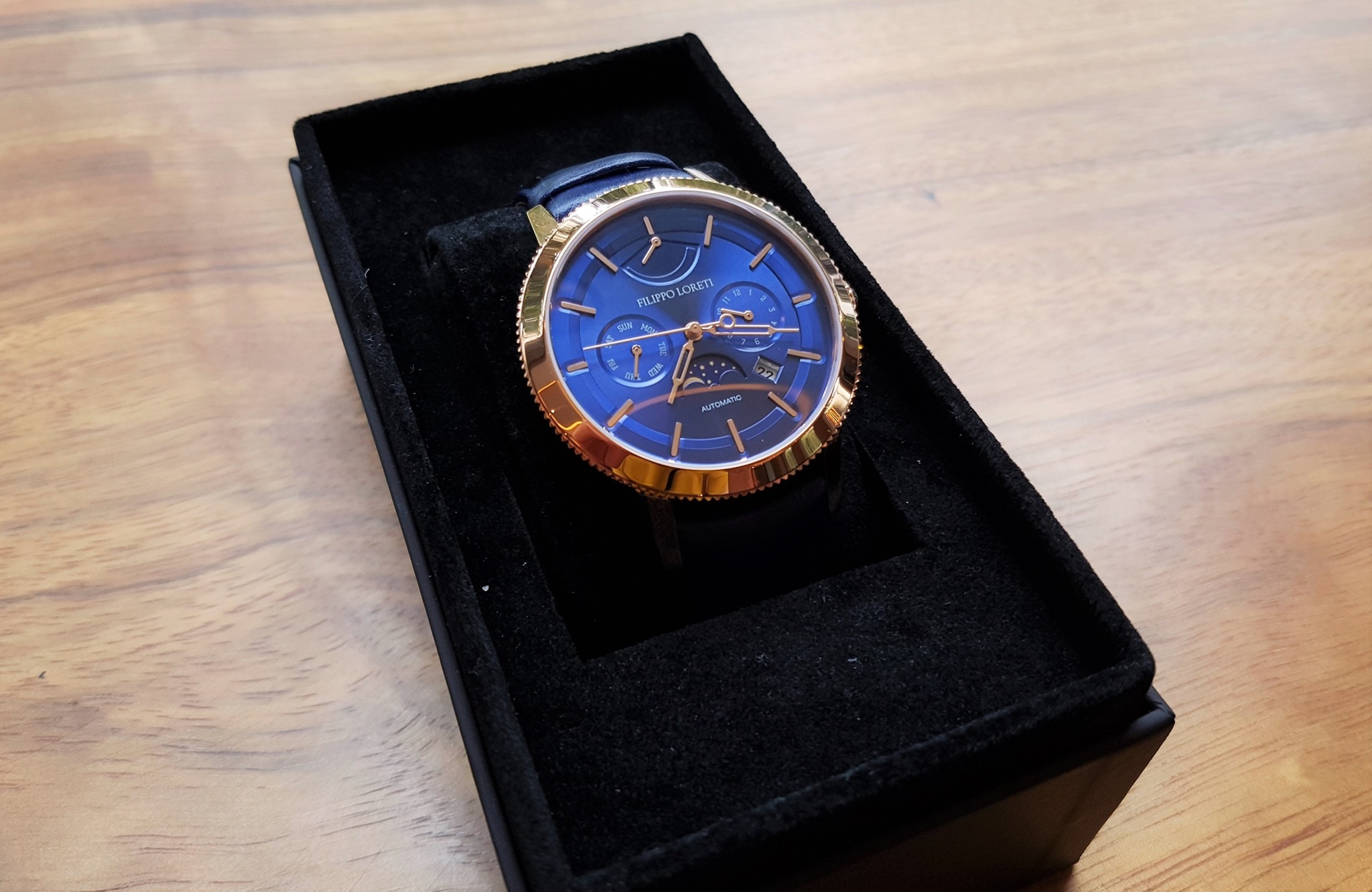 Filippo Loreti was founded on the belief that luxury watches should not be ridiculously expensive. The founders of the brand researched extensively on how they could reduce the total cost of a luxury watch and based from their findings, the reason why luxury watches are super expensive (apart from being built with quality materials) is due to the unnecessary mark-up of prices by distributors, partners, vendors and retailers. In short, these "middlemen" would mark-up the price of a single watch for up to 1,000%.
Unbelievable, isn't it?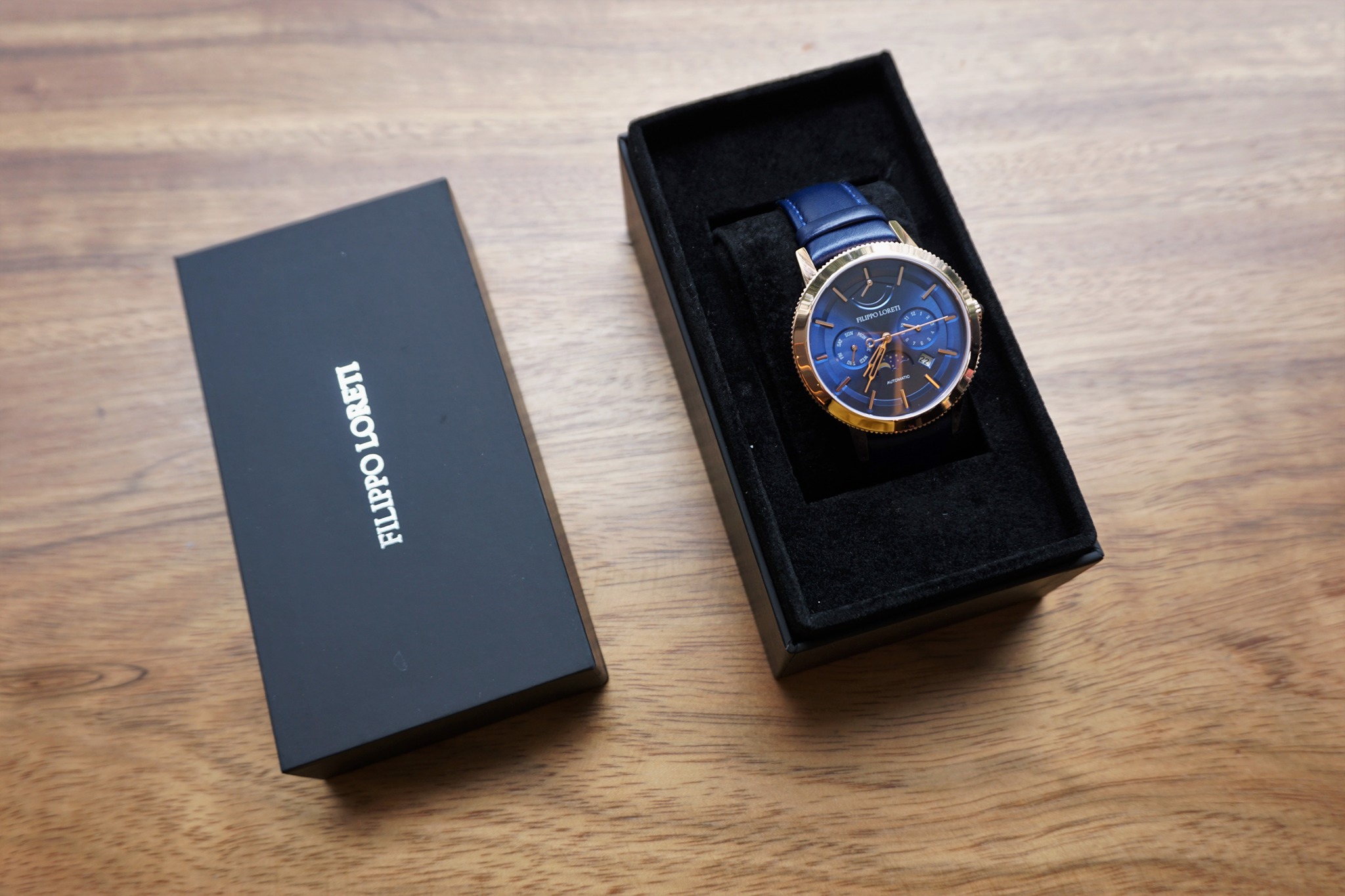 So what did Filippo Loreti do? They cut-off all these middlemen from the supply chain. The result? They (the manufacturer) sell the watches directly to us (the consumers) via their website. And you wouldn't believe how much that process reduced the cost of their timepieces.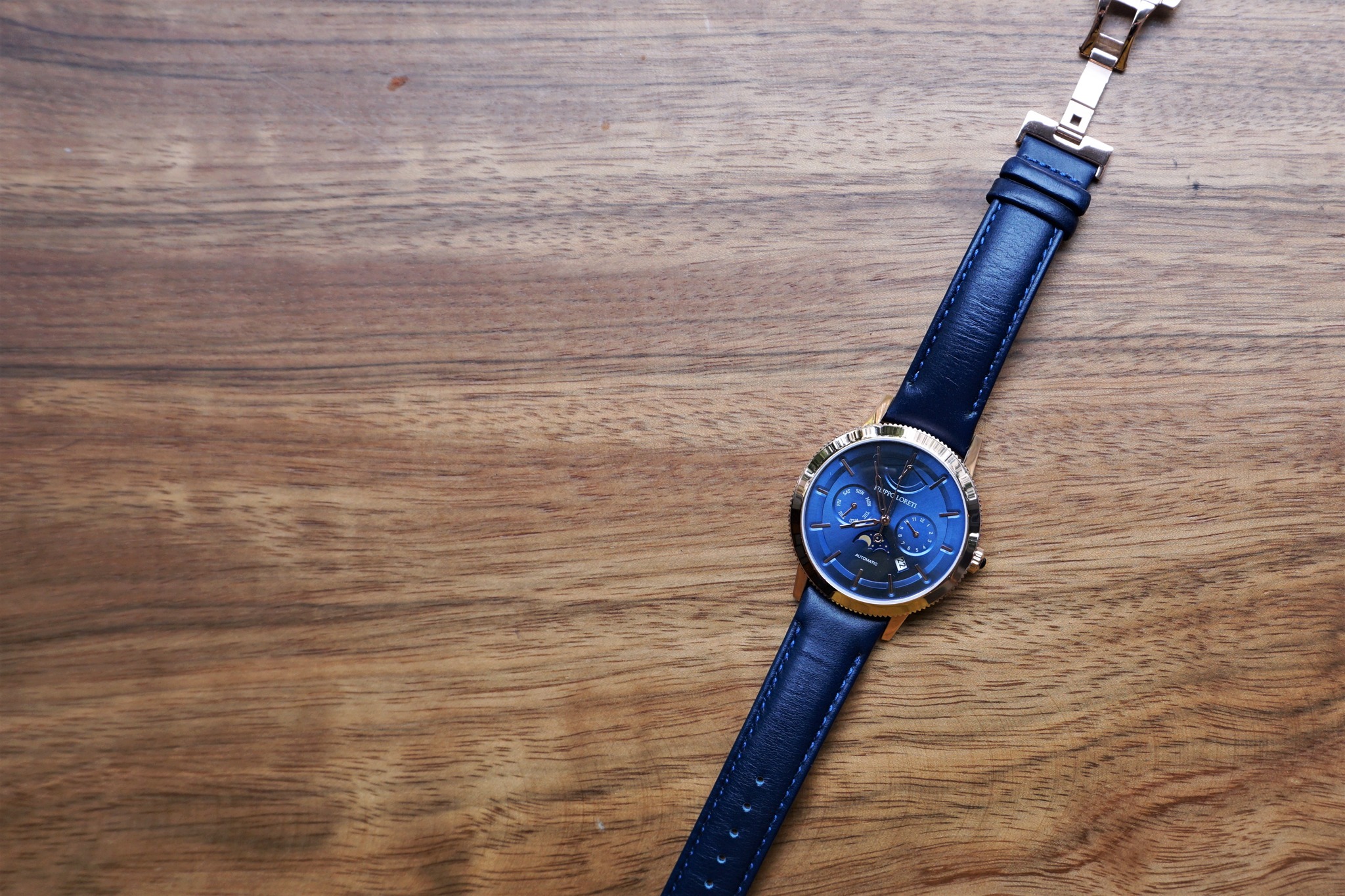 Now as a start-up business, Filippo Loreti's launch was funded by thousands of backers at the Kickstarter crowdfunding website. To date, they have made history as being the biggest funded timepiece on Kickstarter – a huge achievement and a testament to how many people believed in the brand.
Venice Rose Gold Blue Automatic Men's Watch
If you visit their website, you'll find classic, elegant, luxurious and stylish watches for the modern gentleman.
Out of all the men's watches that could be found from their online store, I personally picked this beautiful Filippo Loreti Venice Rose Gold Blue Automatic Men's Watch to wear and review here on my blog. They delivered it to me internationally via DHL.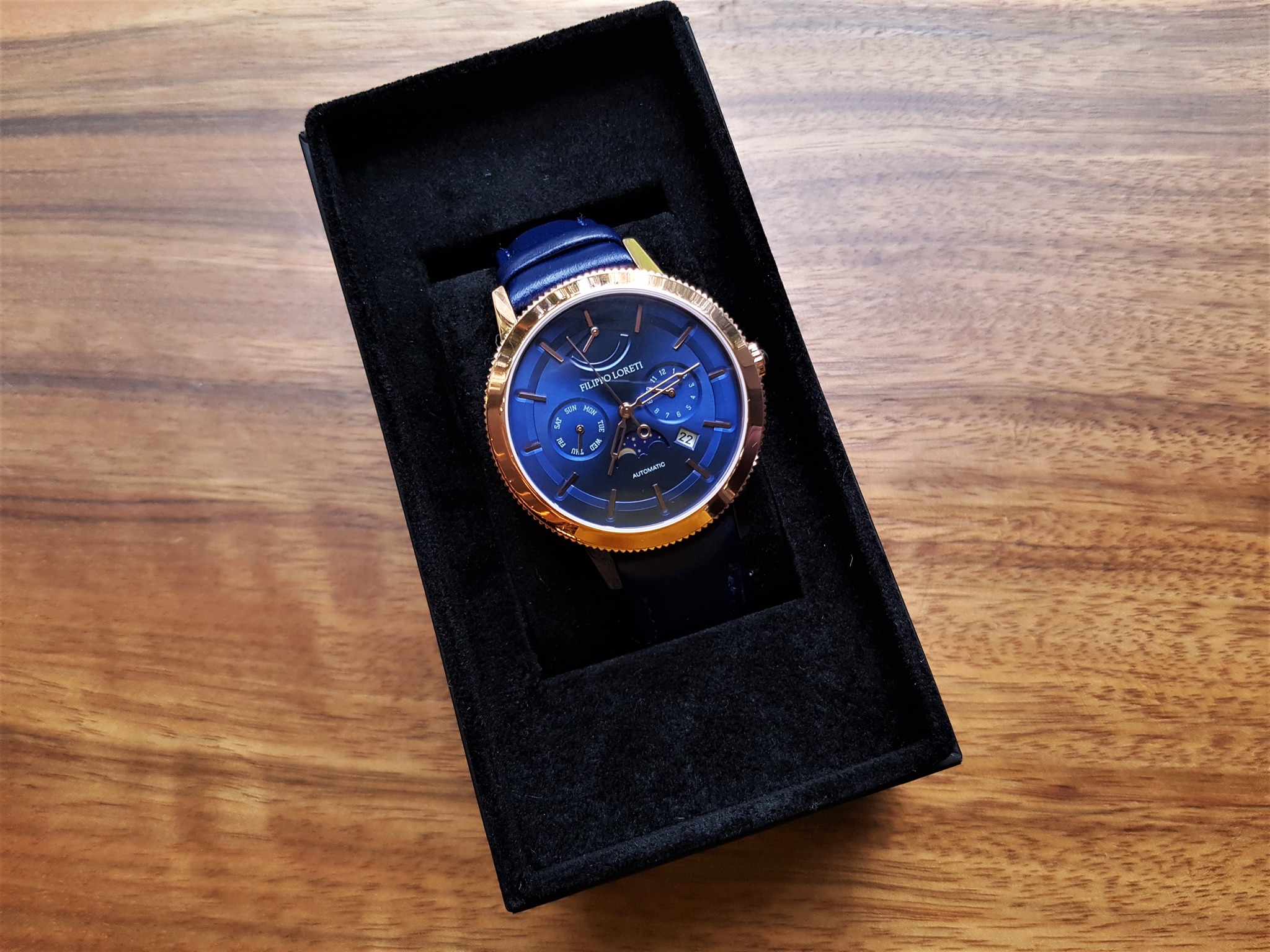 And so what are the most notable features of this watch that I personally liked? Many, but here are the Top 7 reasons why I think it's different from other watches that I have.
Reason #1: Luxury Look and Feel At a Reasonable Price
Dude, I mean come on? Just look at this shiny timepiece right here.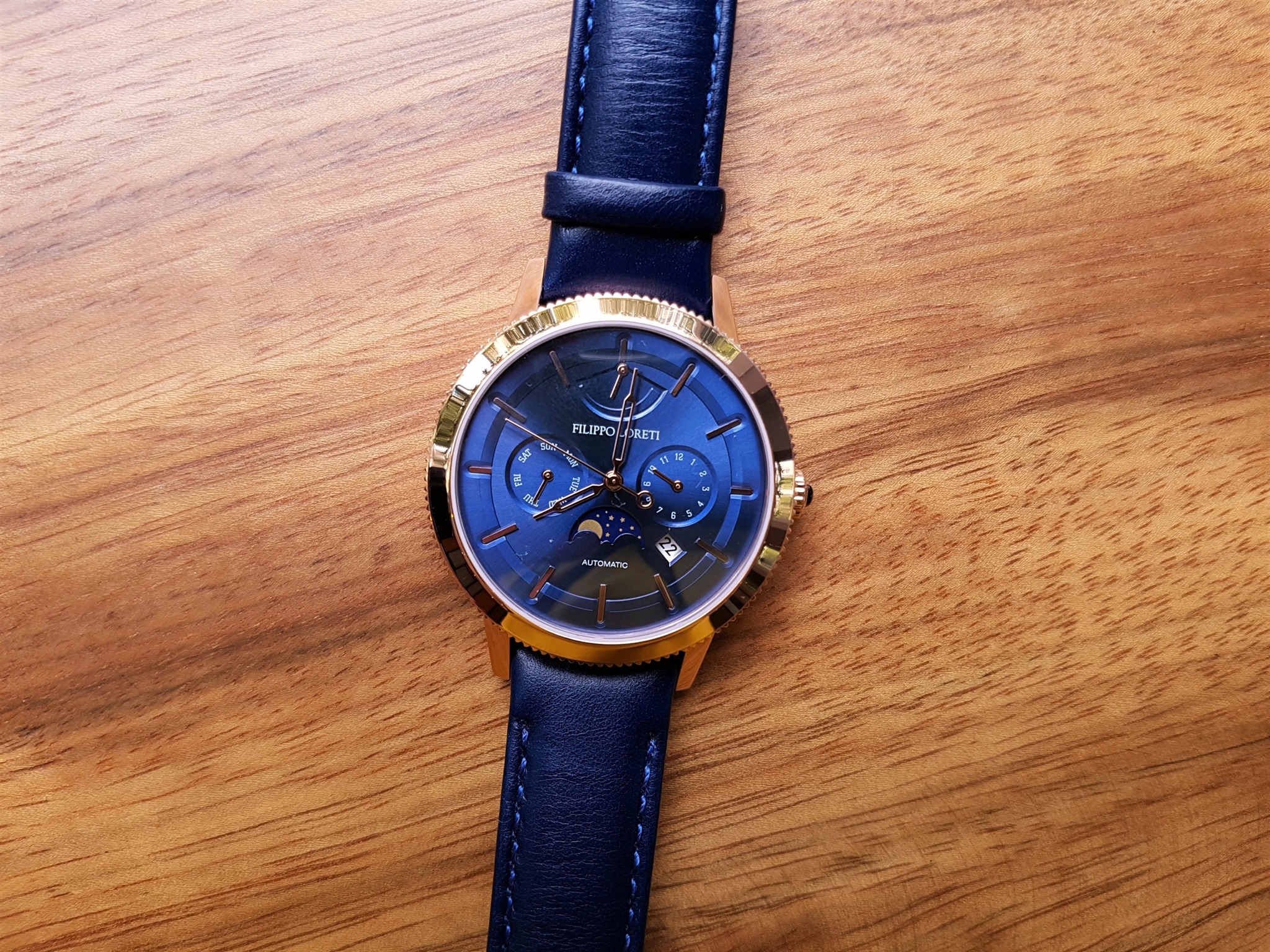 Isn't it such a beauty? By just taking a glimpse of it, you know for sure that it is not just an ordinary watch. It is comparable to luxury watches that we know but costs only a fraction of the price.
You would not believe it but the watches from Filippo Loreti starts at about 260 USD only.
Not bad, right?
But the one featured in this blog post costs 519 USD. That's because it is their top of the line timepiece but even though it is such, it still costs only about a tenth of the price of other luxury watch brands. It's still cheaper overall.
Reason #2: Stylish Color
Rose gold is in.
It started with iPhones and it is now on watches too.
What I liked about Filippo Loreti is the way they paired the rose gold color with blue straps and a matching cobalt blue watchface.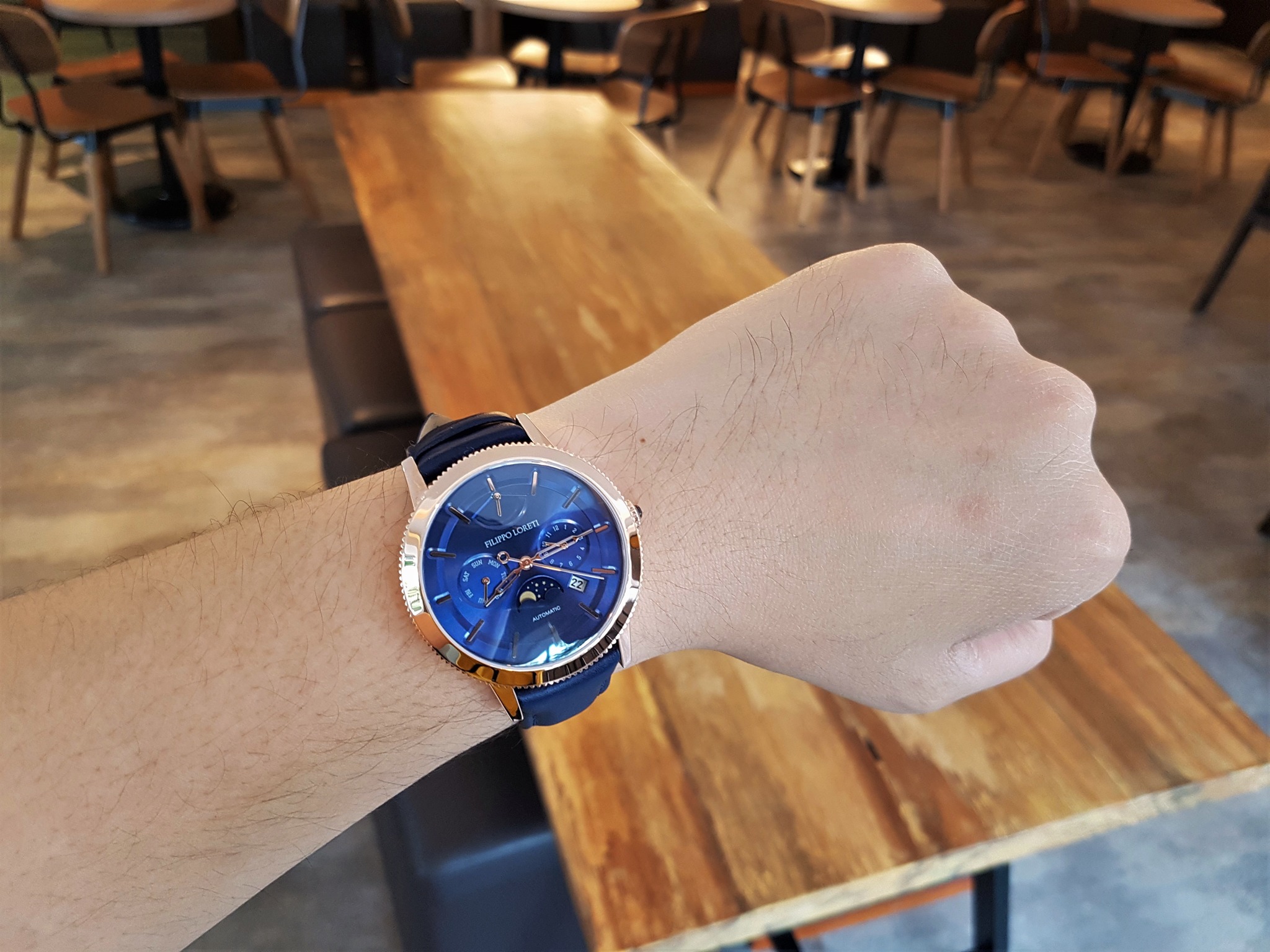 The color combinations gives a bold look and an appeal that is absolutely unique.
Reason #3: Premium Italian Leather with Deployment Clasps
Filippo Loreti's timepieces come with straps made from premium Italian leather, just like this: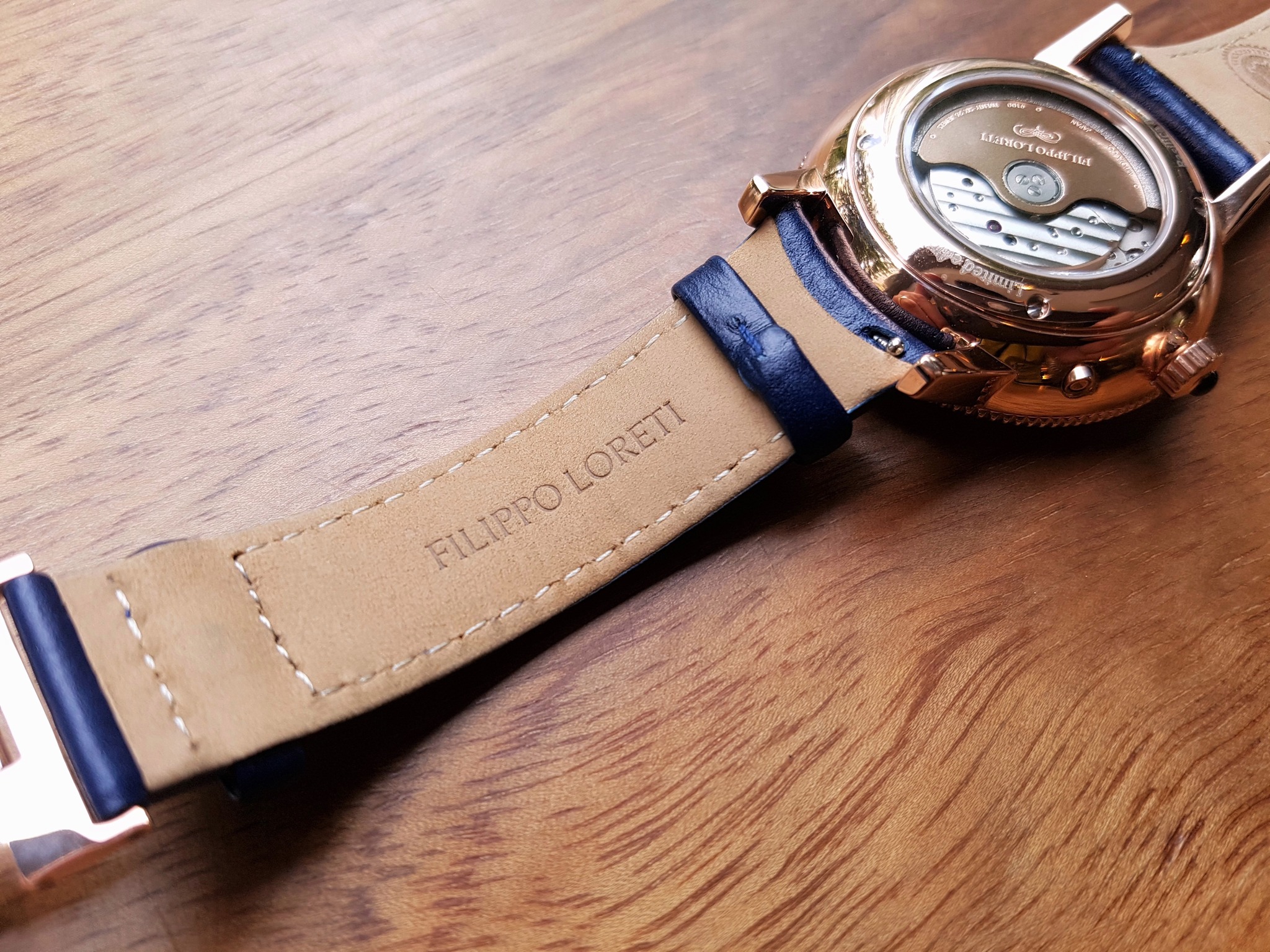 The straps are fastened by hidden deployment clasps (also known as butterfly clasps.)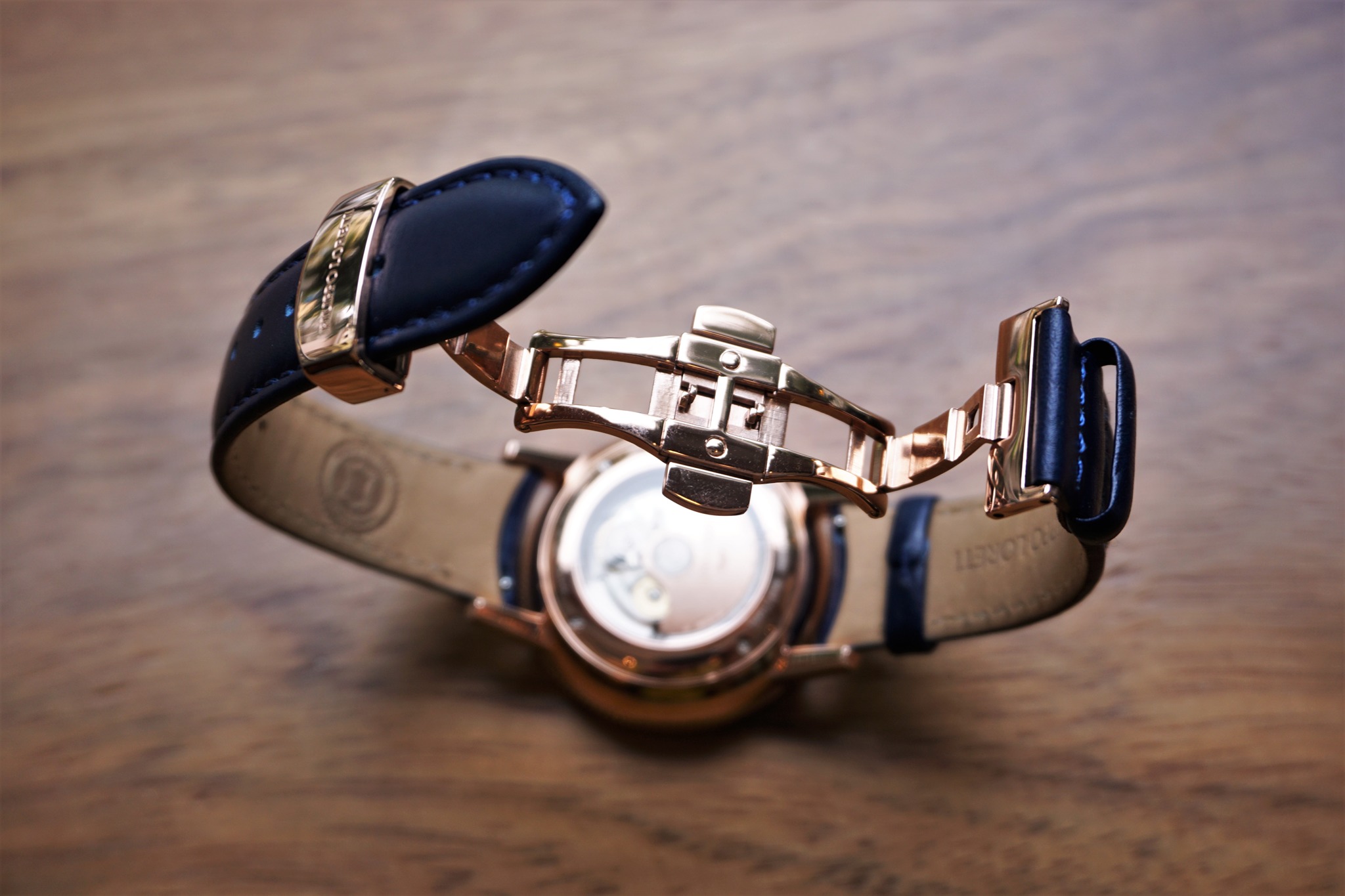 It takes a while to get used to the clasps, but once you do, you may find yourself preferring it. Here is a video showing how to use these butterfly clasps on Filippo Loreti watches.
Reason #4: Automatic Watch Mechanism
One of the greatest marvels of watchmaking is having a timepiece with purely mechanical components and one without the need for a battery.
Yes guys, you read that right. This watch model has no battery.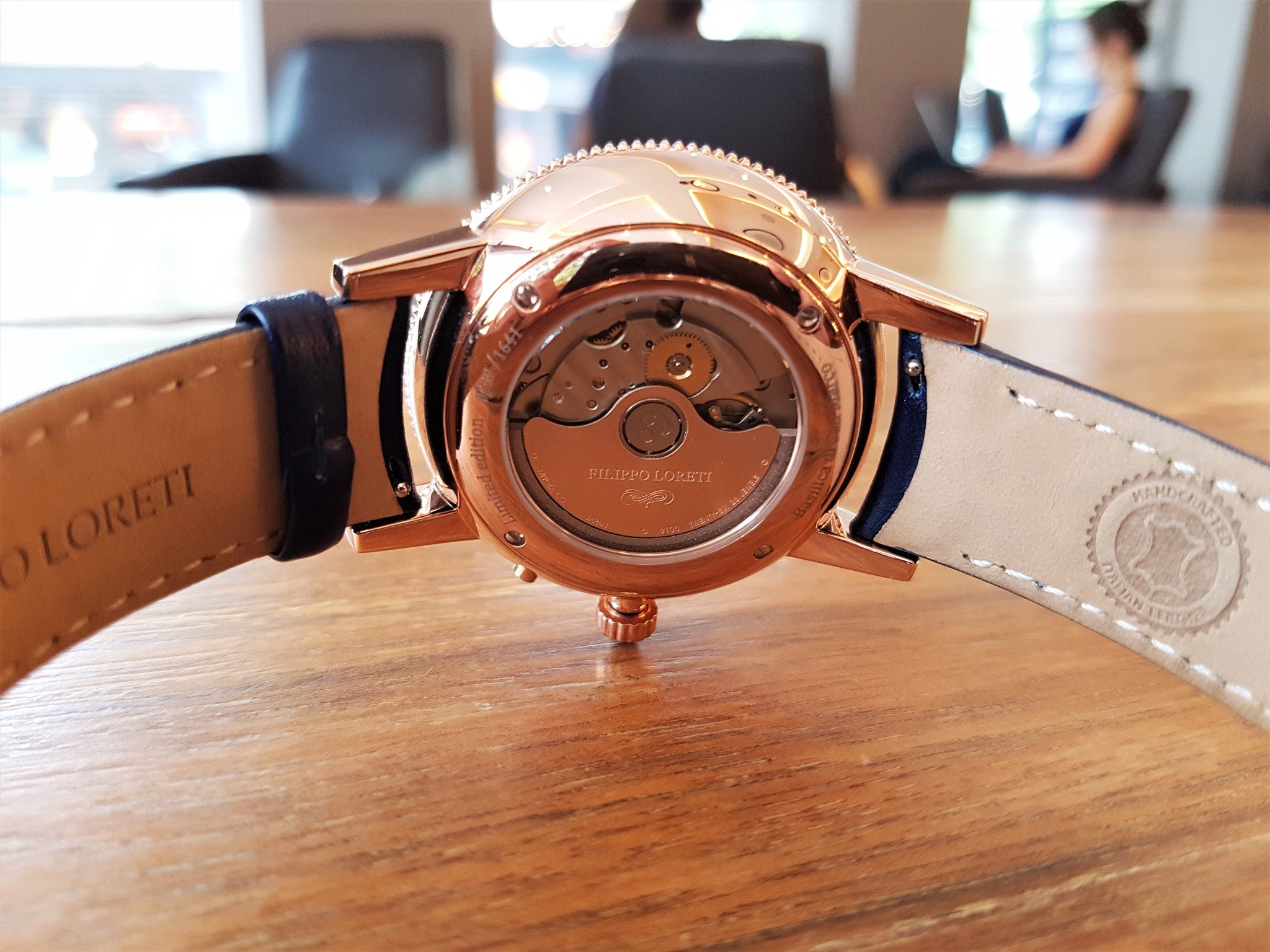 Unlike your no frills battery-operated watch, the Filippo Loreti Venice Rose Gold Blue Automatic Men's Watch is powered by a semi-circular rotor at the back (pictured above) which rotates, winds and powers-up the spring and gears inside your watch.  The job of the moving semi-circular rotor is to transfer the kinetic energy from the movement of your hand into the springs and gears inside the watch. BEAUTIFUL!
The delicate mechanism by which the watch operates is an intricate art and a genuine masterpiece that most men have appreciated since the early days of watchmaking.
You can watch and learn more about automatic mechanical watches here to understand the whole idea of how the watch works with the absence of a batteries.
Reason #5: Limited Edition
A product is not considered luxury if everybody has it.
So in order to balance being affordable and being luxurious, Filippo Loreti made each of their watches limited.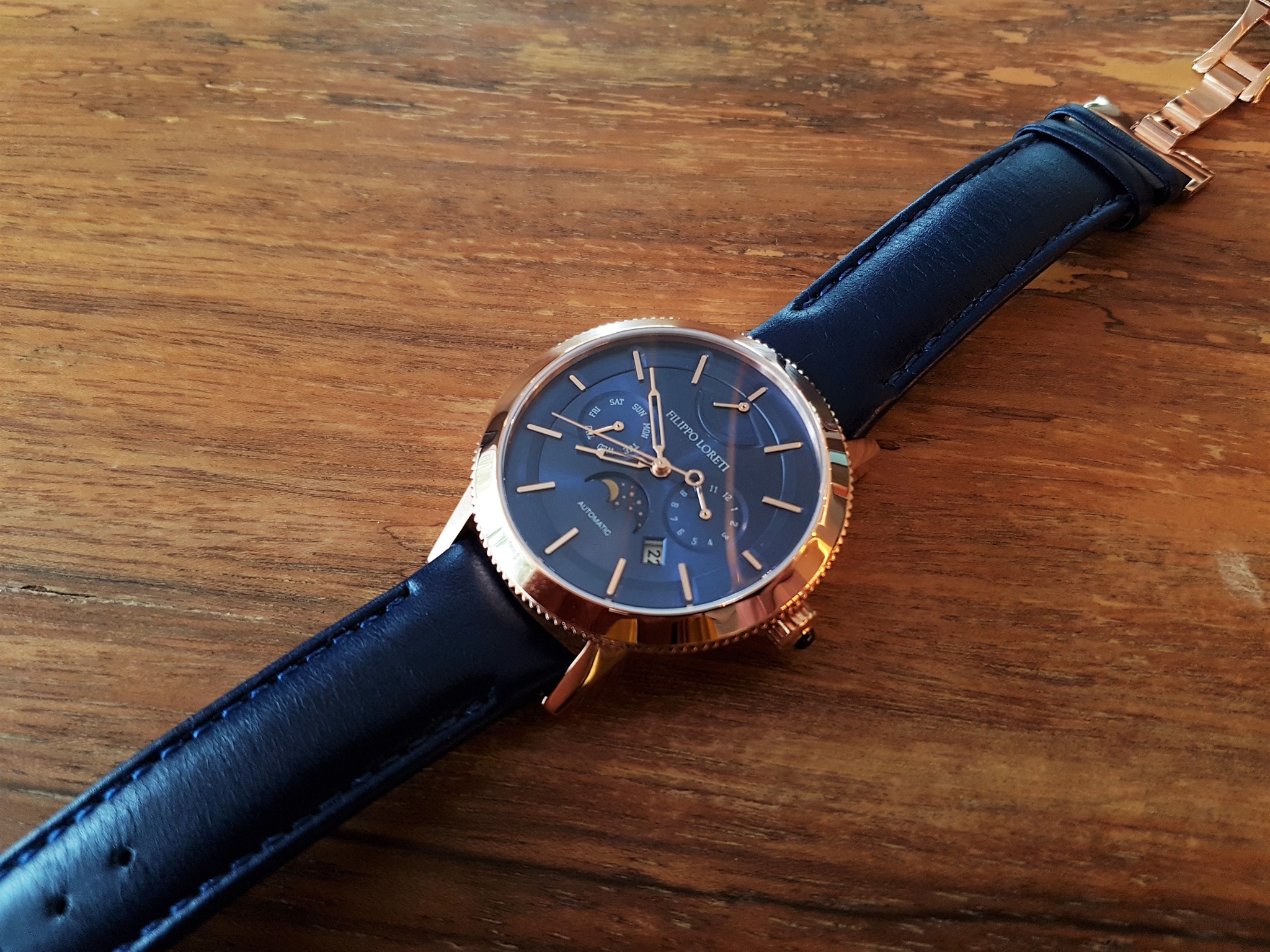 When you buy the watch, you will see two numbers at the back that shows how many of these models Filippo Loreti plans to produce. Observe closely below.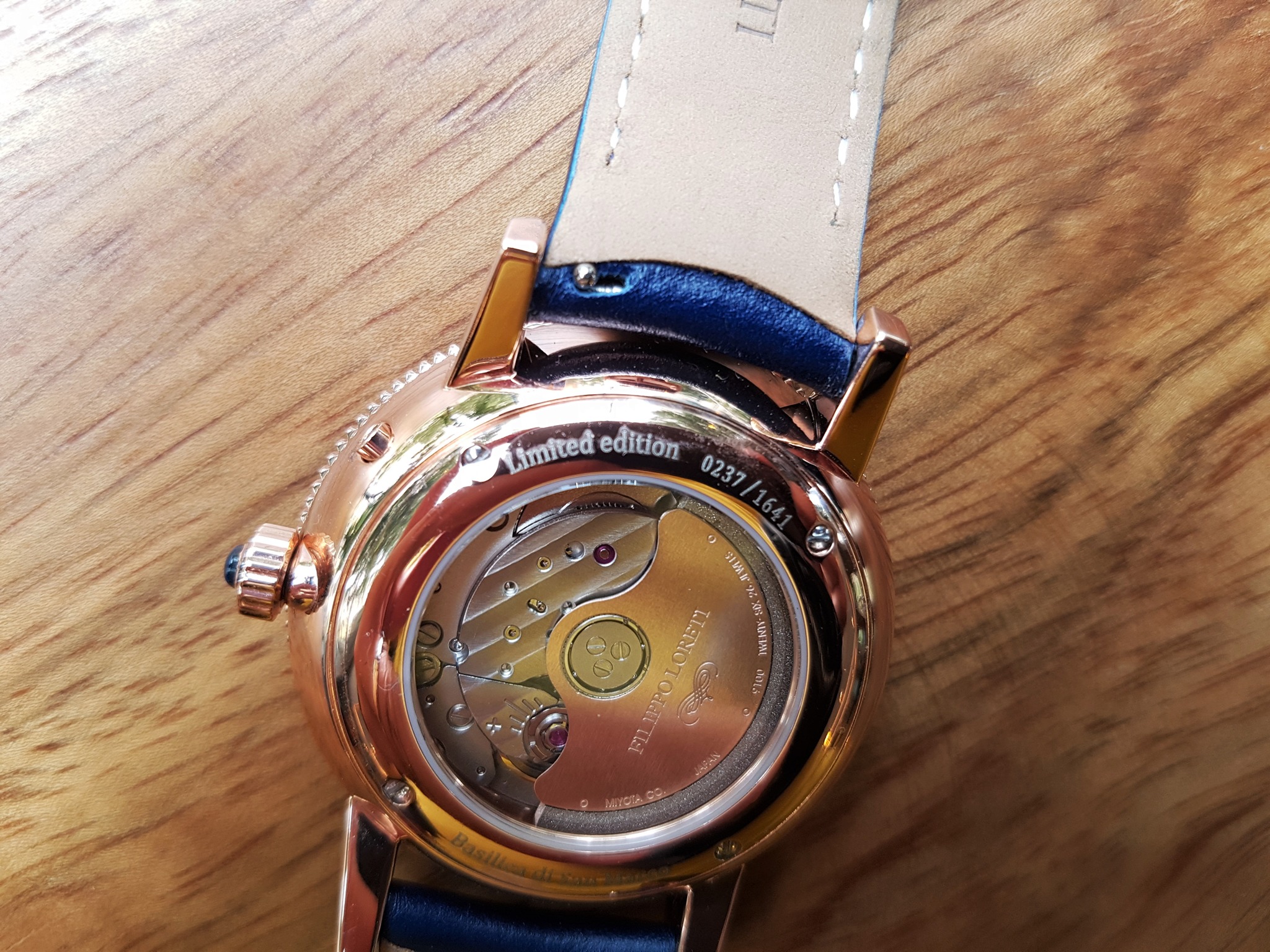 As you will see in the photo above, the watch featured in this blog post has a number of 0237 / 1641.
That means that it is the 237th watch out of only the limited 1,641 watches that Filippo Loreti plans to produce for this model.
Reason #6: Ten Year Warranty
Filippo Loreti is very confident in the quality of their watches. To prove that, each watch has a ten year warranty with free shipping and free returns.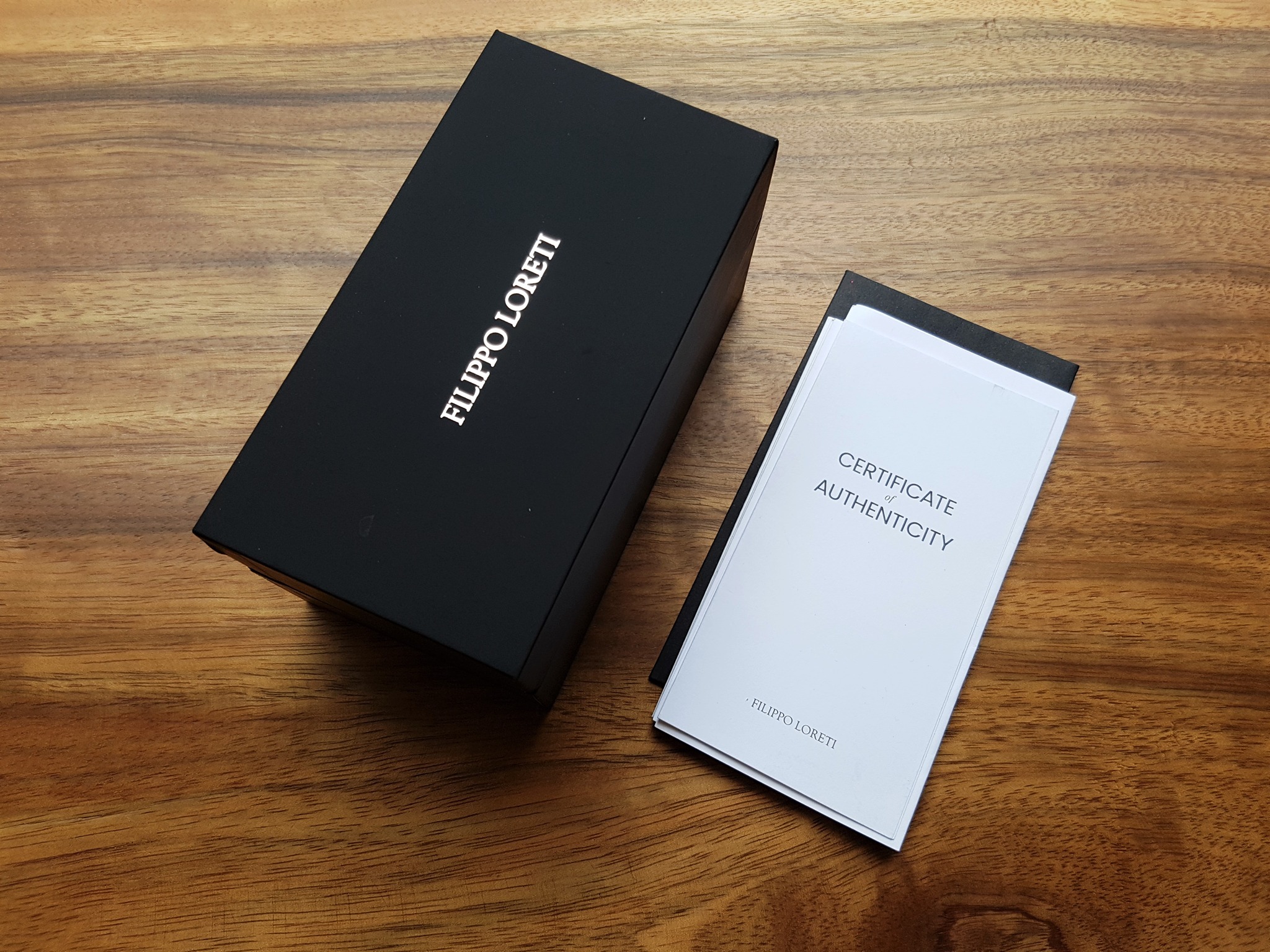 Reason #7: Multi-functional watch
If you look at the face of the watch closely, you will find the following features and dials: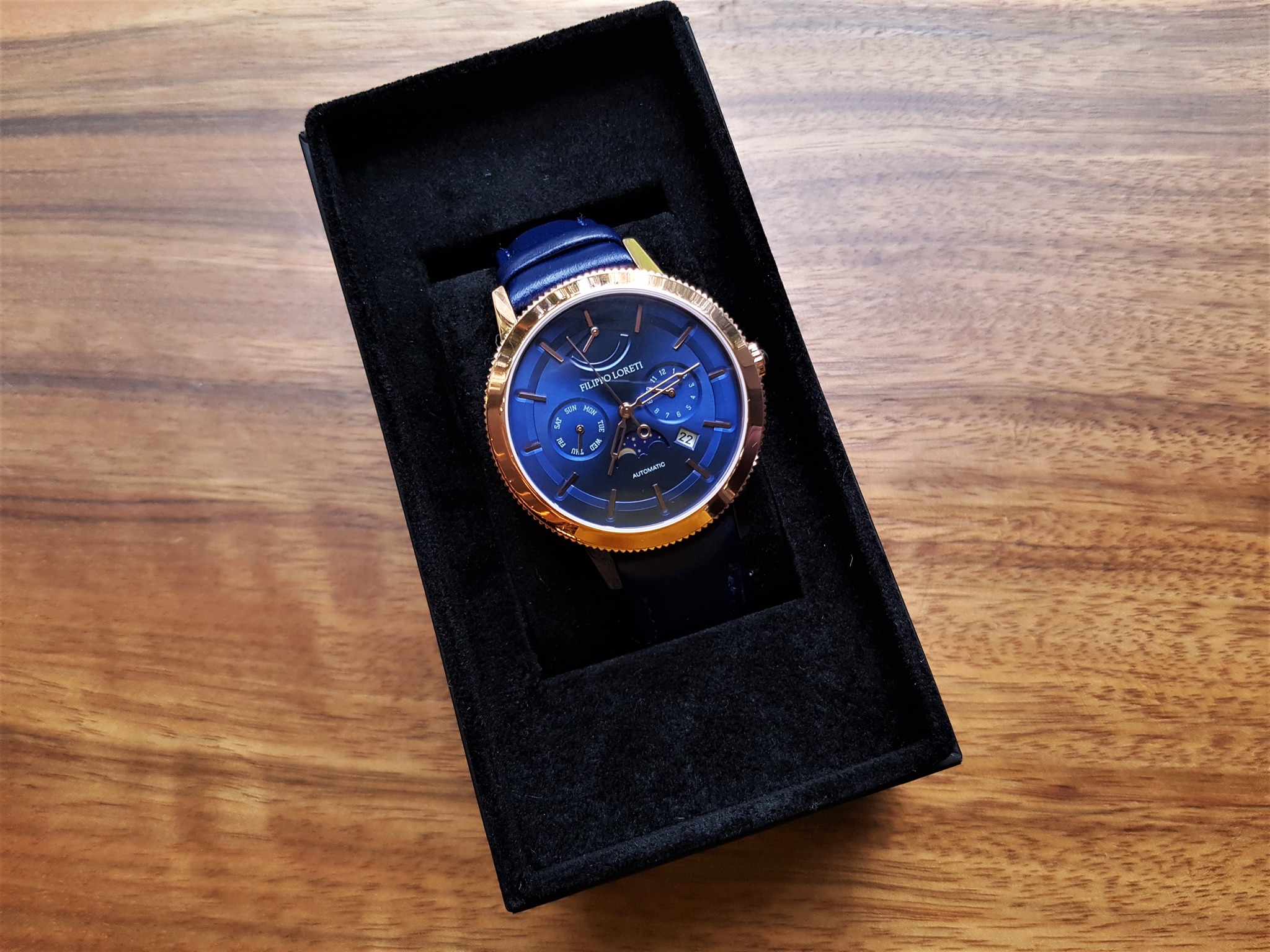 Hours, minutes and seconds hands at the center
Power reserve indicator at 12 o'clock

Since this is an automatic watch with no battery, the power reserve indicator basically tells you how much power you have in your watch before the need to wind the watch or move your wrists to keep the watch ticking.

Day of the week indicator at 9 o'clock
Month of the year indicator at 3 o'clock
Day and night indicator at 6 o'clock
Date window at half past four
It has everything you need to track the date and time. You could easily adjust the date and time or power-up the watch by winding the crown located on the right side of the watch.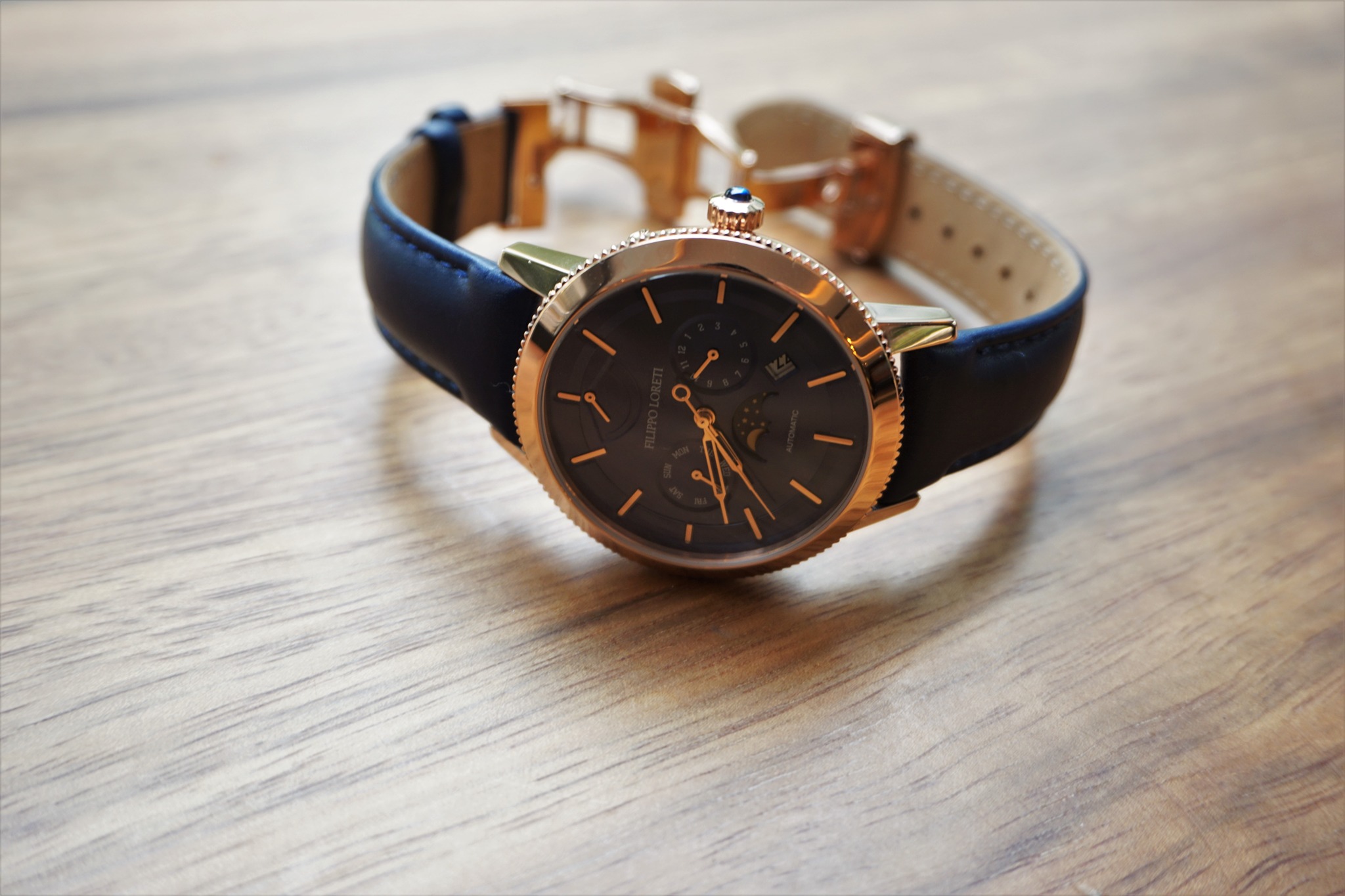 Yes guys, if you look at the above picture closely, the crown is colored rose gold with a cobalt blue tip too!
*   *   *   *
I could pretty much say that Filippo Loreti is a promising luxury watch brand. 18,000+ people who backed them up on Kickstarter could not go wrong.
I look forward to see Filippo Loreti's upcoming models in the near future. I am personally rooting (and hoping) for a new model which has a metallic strap and one which can be used for diving. Although extra metallic straps are available separately for purchase, it would be great to see these metallic straps featured as the default strap for an upcoming watch model.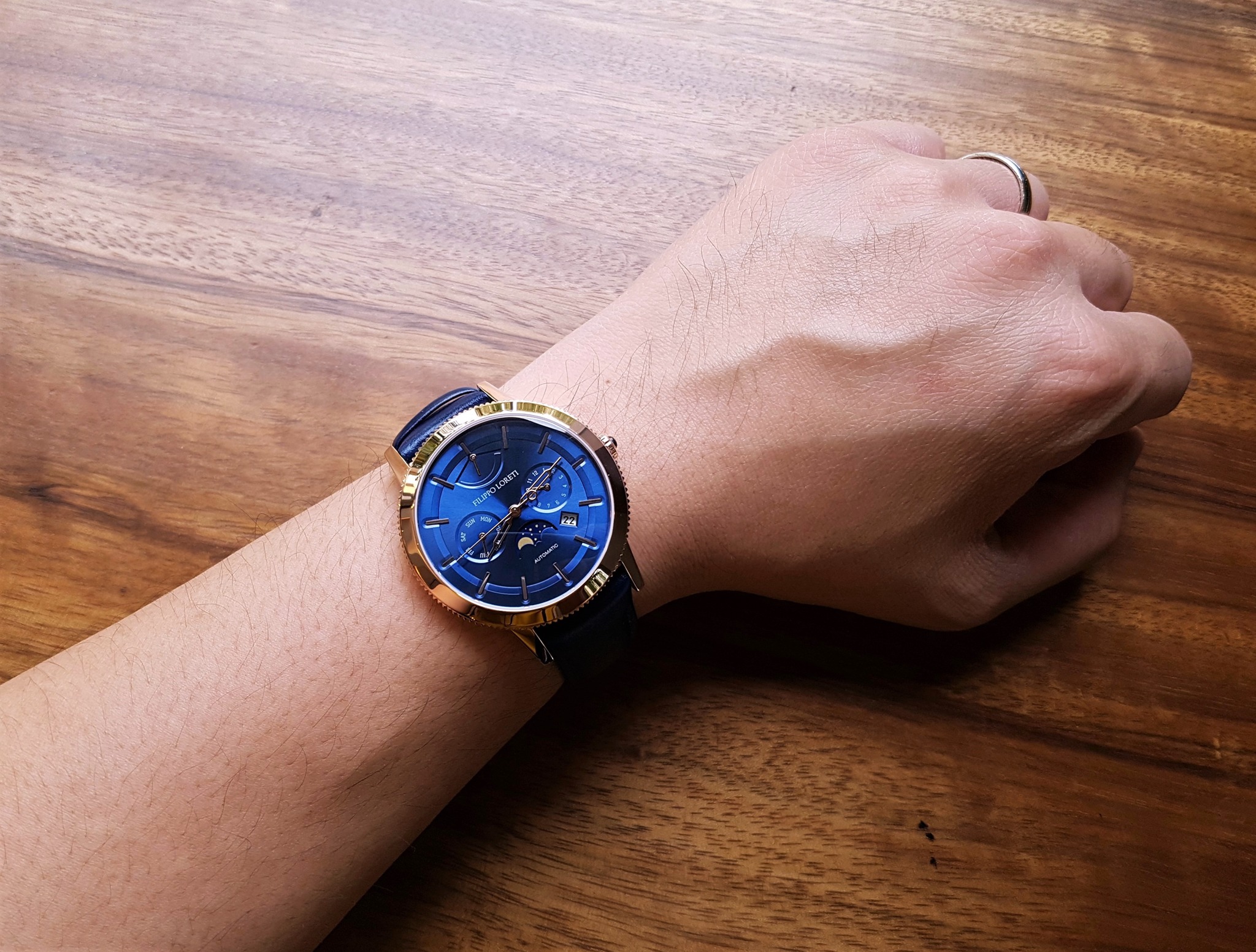 But for now, I am contented that I now finally have a luxury watch in the form of Filippo Loreti Venice Rose Gold Blue Automatic Men's Watch. I proudly wore this when I attended the recently concluded E! Bloggers Ball and I couldn't be any happier with the compliments I received wearing this watch.
Check out more of Filippo Loreti at their official website and online store here.
Get the first dibs on men's fashion. Subscribe your email to Pinoy Guy Guide for the latest updates.