There was a PGG reader who commented in my 3-year-old post regarding Mario D' Boro. He was asking where to find an elegant pair of office shoes. Here was his comment:


"I am planning to buy a black leather shoe. I need help in looking for an affordable and elegant office shoe. Any updates on Mario D'Boro or other brand of shoes… Thanks. I really like this site I feel like I'm always on the trend. Would you believe I'm still even looking for this exact style of shoe that you posted here and it's year 2010 hahaha. I believe PGG is a trend setter for me regardless of the date… I like your items… I like this site… woohoo!:)"

-rockfist11
To rockfist11, if you are still reading, this one's for you. You know, the thing with men's shoes is that they ain't really cheap. Trust me, I remember I went shopping with my date and she could find decent women's shoes under 1,000 Pesos. But for us guys? It's almost always above 1K!
The reason being is that us men normally don't buy shoes as often as women. Women buy shoes for fashion, while we guys normally buy it just for the sake of having something to wear for the occasion. So the result is, shoemakers make men's shoes a bit more expensive for guys since we only buy once in about 6 months or maybe until our last pair of shoes gets broken.
Now to answer your question, I found a very outstanding shoe made by Rusty Lopez. It's a buckle-up pair of boots for men and it's a definite must-buy. I suggest you to get one since it's really amazing!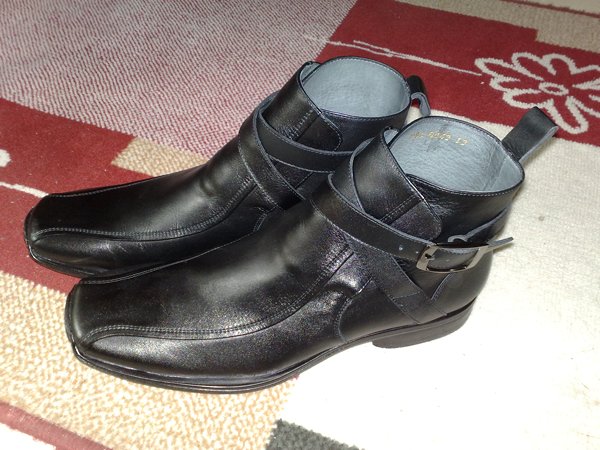 The price? 2,300 Pesos. Not much, if you consider the fact that it's already 2010 and this is your gift to yourself this Christmas season. And yea, you are sure to find it worth every peso because given that it is very stylish, you can find multiple uses for it: you can wear it at the office, at the ball/prom, at a wedding, and even at an after-office party. See more photos below. (Click image to zoom).
I bought this pair of shoes a couple of weeks ago not because I'm going to attend an event. But because it's just too good to pass. And it's just worth it! 😀
Not yet subscribed to Pinoy Guy Guide? Enter your email here or join the discussions at the PGG Forums.