If you are the kind of guy like me who is really into being stylish and who loves dressing up, being sleek and looking my best in any occasion, I am quite sure that at one point in your life you have kind of feared growing old.
You probably have thought: "Could I still be stylish at age 30? 40? 50? or so on?" I'll admit that sometimes that question crosses my mind but since I'm still young I have never given much thought about it until a few weeks ago when a PGG reader named Mike, who happens to be in his 50s, surprised me with his email below:
"Is there an article about style guide for men over 50, living in a tropical country? I have searched the internet regarding this question,and basically have found almost none. And sites that offer guides for us older gents are mostly focused on style for colder climate counties.(none for a tropical, hot and humid country like ours, really). I know that most of the viewers here are of the younger generation (teen, young adults, and generation Y), but it would be nice to see, once in a while, some articles of style, grooming, written for us generation X'ers, he he :)" ~Mike
Well thank you Mike for that email and kudos to you for not wanting to look like an old, boring grandpa. It strikes me that lots of gentlemen out there, regardless of age, do really care about looking good and there's absolutely nothing wrong with that. Heck, I don't want to look old school (or baduy) either when I'm already halfway to 100.
So after a couple of weeks crafting my thoughts about it, I have finally arrived with something for you Mike and for all the PGG readers out there who have this same question.
Below is a general guide on how to choose what clothes to wear without looking awkward and also some tips on how to look your best at any age. These are all based on my opinion and on what I've seen from all the most stylish people of different ages.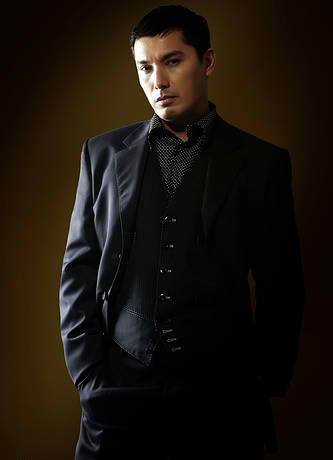 Albert Martinez: Stylish at late 40s
Remember that fashion is not just for the young
I mean, who says that fashion is reserved just for tweens, teens, 20-something and the young? DAFUQ, that's the biggest misconception I've heard. Style and Fashion is meant for everyone regardless of age so don't think that just because you are starting to get older, your choice of clothing starts to get limited too. That's just plain wrong. I think that at any age, you can wear anything you want, anything that makes you feel good, anything that makes you look good. Why waste your life looking like an oldie when you can still look like a hottie at any age?
Know your image and choose clothes based on how you want to project yourself
Are you a big boss at some multinational company? A simple professional? A rocker or musician? An entrepreneur? An athelete? You can always choose clothing depending on what you do for a living and how you want to project yourself.
For instance, if you are a professional, you can project that professional look by buying clothes from modern business attire shops like Arrow, Van Heusen, G2000, Wall Street, Daniel Hechter, Memo, Onésimus and so on. Yes, their image models are young professional men but that does not mean that you can't buy and wear clothes from them. They just do all that for advertising and marketing purposes.
If your lifestyle is more of laidback and casual, you can go for decent casual clothing shops like Izod, Giordano or more edgy ones like Lee, Jag, Guess, Levi's, Bench, Penshoppe and so on.
As you may have noticed, most of the brands that I have recommended are also the brands that you will see here in Pinoy Guy Guide's Men's Fashion section. That only means that you are always free to wear what the youth are wearing – after all style knows no age.
Fix your hair and shave
As we age, one of the most challenging part of ourselves to fix is the hair. Let's face it: some guys go almost half-bald even before 40. Some even get gray hairs as early as 20 but as years pass by these are inevitable part of a guy's life that we have to deal with.
If you're starting to get gray hairs, others would say that the most logical thing to do is to dye them black. But I reckon that's not the best solution as dying your hair midnight black can make it look fake. So I'd recommend getting some dose of medium brown or dark brown color instead of black. It will cover those gray hairs without making you look silly and unnatural.
Another thing you should pay attention to is your haircut. A couple of years back, I wrote an article on "The Importance of Getting a Good Haircut" and I couldn't help not to point it out again here. You see, no matter what your age is, your haircut is a huge contributing factor to your looks. It can make you look older or younger, good-looking or ugly. I suggest that you get a good hairstylist or go to modern men's salons like Bench Fix and David's. I repeat: don't feel insecure if you see mostly teens or twenty-something folks inside those salons. Remember that there's no age limit when it comes to style and the fact that you are a paying customer means that there is no reason for you to be bothered at all.
In addition to the above, you have to make sure to shave those beard and mustache regularly unless you want to look like an old hermit. Trust me, it will do you good by making you look younger than your age.
Eat healthy and exercise
Although it may sound like cliché to most of us, numerous studies like this one here, have shown that eating the right food and exercising can delay a person's aging and keep you looking young.
Exercise can also lift your energy levels, remove those stress, take away depression and make you feel happy. And happy people in general look good all the time.
Another importance of eating healthy and exercising is that it makes your body fit. That only means that you will look dashing in any clothing. Morever, finding something to wear will be a breeze and not some daunting task to do.
Be stylish but don't go overboard
Although I've mentioned that you should wear what you feel like and anything that makes you look your best, you should still remember to wear only clothes which you think you can pull-off regardless of your age. You wouldn't want to be the laughing stock if people find you wearing LED-flashing shoelaces or gold pants at age 50 would you? That's inappropriate and way overboard.
It's also worthwhile to ask feedback from a friend, a family member or a loved one to get a second opinion on whether your get-up fits you well or not. I still do this all the time just to make sure that the color of my shirt, pants and shoes are a good match.
_____
Final words:
To wrap-up, age should not hinder you from looking your best. Celebrity Albert Martinez is almost 50 but still dresses sleek and looks exceptional when wearing a coat. I also remember that there is this manager in our office who is already in his 40s yet he can still pull-off any type of clothing. He sports a side-swept bangs (take note: waxed with Gatsby), wears plaid shirts, slim fit jeans, and Chucks making him look like he's only in his late 20s. Mike, if they can do it, so can you!
How about you guys? Do you think you'll still be well-groomed and stylish beyond 40? What further advice can you give Mike?
Want to get the best in men's fashion and lifestyle? Subscribe to free updates via email and connect with PGG via Facebook, Twitter and Forums.