(This is a continuation of the story: "How I Met the One".)
I don't believe in Long Distance Relationships.
But who would have ever thought that three years ago, I found myself being pulled into one?
Flashback
In Part 1 of this blog post, I told my story of how I met a special "balikbayan" girl named Joan, through a common friend who played matchmaker to both of us. We had what I thought was a one-off date but what I didn't see coming was the two of us hitting it off.
We had the chemistry and the right amount of "spark" that could eventually turn into a full-blown relationship. Unfortunately, she makes a living in the US and had to go back there for work. So in just a blink of an eye, good things seem to have ended abruptly even before a relationship could bloom.
But the beauty of life is that it is full of surprises and at any minute, something life-changing could happen to you in the same way that it happened to me.
I remember it was 11 PM on a Sunday night of October 2014 and I lay on my bed waiting to fall asleep. My thoughts went like:
Why do you have to meet someone special and someone who had a huge potential to be your girlfriend if you will never see them again?

Isn't this a bummer?

Now what do we do?
Meanwhile, at exactly this moment, Joan was already at the airport and was boarding Korean Air for her past midnight red eye flight back to the US. We both knew and confessed that we had the attraction and feelings for each other, but what can we do? She makes a living there and I make a living here.
In situations like these, where there is no form of commitment, there are only two possibilities:
Possibility 1: She meets someone else there, and I meet some other girl here and we eventually forget everything that ever happened.
Possibility 2: We start a long distance relationship hoping, that someday, we will find ourselves together.
I'm sorry to disappoint you guys, but I'm not the most optimistic person you will meet. I'm not a pessimist either but I'd rather describe myself more as a realist – so I was more inclined to believe in Possibility #1.
I was thinking about all these, then I eventually fell asleep. It was past midnight after all.


"GGSS"
Next day, 5:30 am, I woke up with my alarm clock vibrating and ringing beside my bed. I opened my eyes, turned the alarm off and realized it was a Monday and I have a breakfast meeting in the office at 7 AM. As you would expect, I struggled to get out of bed. After all, I slept late and woke up too early.
My eyes were still half-shut but I reached for my phone on my night stand to try to check and read email. Lo and behold, what I got was not a work email but a Facebook message from Joan:
"heyyyy! I'm here in Seoul, South Korea! Layover muna. Ang haba ng next flight err! Haha. Kumusta? Gising ka na?"
As I read that, I felt something tickling down my spine. It's what you call, in Filipino terms, KILIG. Haha! You will probably laugh because I'm a guy telling this story, but if you have never had the "shivery-kilig" moment in your life, just like in highschool, then either you are lying to yourself or you missed a lot during your teenage years.
Kidding. 🙂
Joan's message brought a smile to my face. I opened my eyes wide, got up from my bed and replied:
Chris: "Good morning! Miss mo ko 'no? hahahahaha!"

Joan: "Hay nako, whatever! haha."

"Ang GGSS ko lang diba?", I said.

"GGSS?", Joan asked.

Chris: Gwapong Gwapo Sa Sarili! haha!

Joan: OMG! Millennial term? Hahaha. Pero GGSS ka nga. Haha. Wait, I will just grab kimchi. Have you eaten yet?

Chris: "Yikes! Kimchi?", I asked.

Joan: Why?

Chris: I hate it. Lasang gumamela.

Joan: Nakatikim ka na ng gumamela? Hahaha! It's not for everybody. It's an acquired taste.

Chris: Not for me for sure hahaha. Anyway, I'll be heading to McDo for breakfast. I need their brewed coffee to stay awake and keep my sanity the whole day.

Joan: Hahaha. Okay, bili ka muna. Boarding na rin ako in a few. Message kita pag nasa New York na 'ko.

Chris: OK, ingat ka. Message me when you're there.

Joan: Okiii. 🙂


Joan is back in the States
At the back of my mind, I assumed that Joan was just trying to be polite when she said that she will text me when she arrives in New York. The realist side of me was kicking in and I started thinking that perhaps, similar to what happened in the previous years before we met, we would eventually part ways and stop communicating.
But this time, I was completely wrong.
Because everything was different since we met on that fateful first date.
About 12 hours after our last conversation in Seoul, I received a message from Joan saying that she safely arrived in the US. I was kind of flattered by the fact that she thought of updating me right away when she got there.
I knew she felt something for me in the same way I felt something for her. It made me realize that she was really someone who seemed to be "for keeps".
So, I didn't stop there. I persisted. I wanted to make "something" work between us. Whatever that "something" is, I have yet to find out.
From that day forward, I decided to exert more effort in sustaining the small, special friendship that we had by continuing to communicate with her consistently.
Yes boys, through the years, I've learned the hard way that consistency will take you far when it comes to dating women 😉


"You say good morning, when it's midnight"
Manila and New York are about 10,000 miles apart. And the time difference is 12 hours. So when it is 7 in the morning here in the Philippines, it is 7 in the evening the previous day in New York City.
But despite that, day in and day out, consistently without fail, Joan and I exchanged messages through Facebook Messenger in the evenings after getting home from work:
Time check: 7 PM Philippine Time / 7 AM NYC Time
Joan: Good morning! How's your dayyyy?

Chris: Good evening gorgeous! I'm tired! Long day. How are you? Namiss kita. 🙂

Joan: Yiiii. Hay nako hahaha. Bolero.
Then we would continue the IMs for about another hour or so. We talked about random things: things that happened during the day, our milestones at work, our frustrations, people we liked, people we despised (LOL), our plans for the weekends, news, politics and heck, even hilarious 9GAG memes on Facebook. We will talk about anything under the sun until I fall asleep.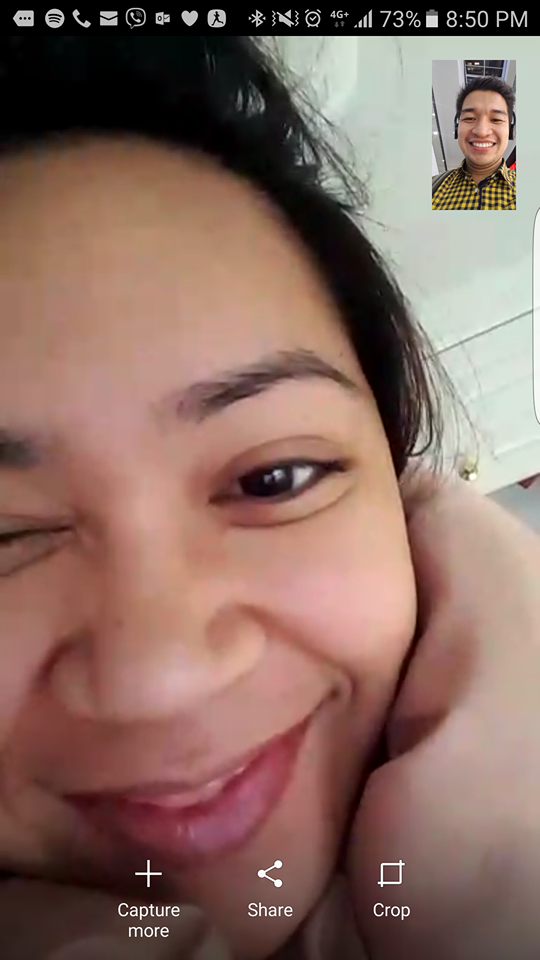 Then, the following day, Philippine time, it would be my turn to say Good Morning as soon as I wake up:
Time check: 7.30 AM Philippine Time / 7.30 PM New York City Time
Chris: Good morning from Manila! What did you do today at work?

Joan: Hello heartthrob! Good evening from New York! Haha. Client meeting all day. Still on a subway going home. Aga mo. May meeting ka?

Chris: Ahahaha! Yes, meeting with counterparts today, as usual. Antok pa ko pero nagising ako dahil sa "heartthrob" comment mo. Wala, nagkabolahan na. LOL.

Joan: Wahahahaha. Yihee, di na kailangan ng kape nyan. Heartthrob lang pala ang katapat gising na sya… LOL
The conversation will go on and on and on until it is her turn to fall asleep.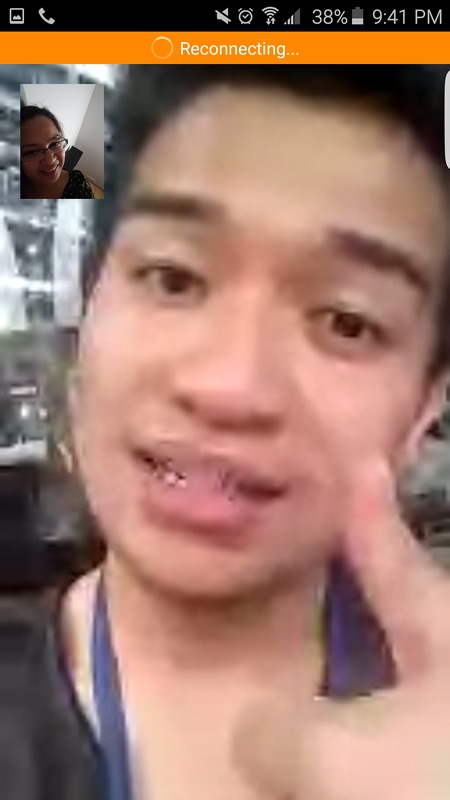 As you have obviously noticed, we live in the opposite sides of the world. It's crazy because at one point, we were so confused with the time difference that we didn't know when to say good morning or good night anymore. For this reason, the song Jet Lag by Simple Plan became our theme song. If you don't know the song, I suggest you listen to it because the lyrics clearly describe how LDRs are like. Plus, the song is really nice!
Stalking Moves
Now if you like someone, you start stalking them on social media. I knew that Joan was pretty active on Twitter so one time, I stalked her tweets because I wanted to get a feel of what she thought about our long distance "thing" going on for over a month now.
It was then that I saw an interesting tweet about how she feels about me and this whole thing that we had:

That's all the info I needed to read to know that things were going in the positive direction. 🙂
The Sign
During the early stages of dating someone, you start to look for signs. Signs if she likes you, signs if you two would click and signs if the girl you are dating would make a great girlfriend.
They say that one of the signs that a girl would be an awesome girlfriend (and even a wife material) is when she consistently talks to you and pays attention to every word you have to say.
And Joan is exactly like that. She is a good listener and a good conversationalist too.
How did I know this by merely texting and chatting with her?
If you've ever used IMs like Viber and Messenger to communicate with someone, you will soon realize that after leaving your phone for a while, you will be flooded by tons of messages from the person you are chatting with the moment you return.
You will then find yourself having trouble keeping up with the conversation, after all, it's tedious to scroll up and read every word you missed in a small window, right?
So the tendency is for you to reply only to the last sentence you've read.
But not so with Joan. Compared to other girls I've met, what I found impressive with her is the way she backreads every sentence that I have said on Facebook Messenger – even those she missed. She makes sure to scroll up to read anything that she might have left unread and makes sure to respond to each of them.
That generous act simply shows that she listens, pays attention to what I'm saying and that she truly cares. Girlfriend material indeed!
And perhaps the biggest sign that she might be the potential Mrs. PGG?
This.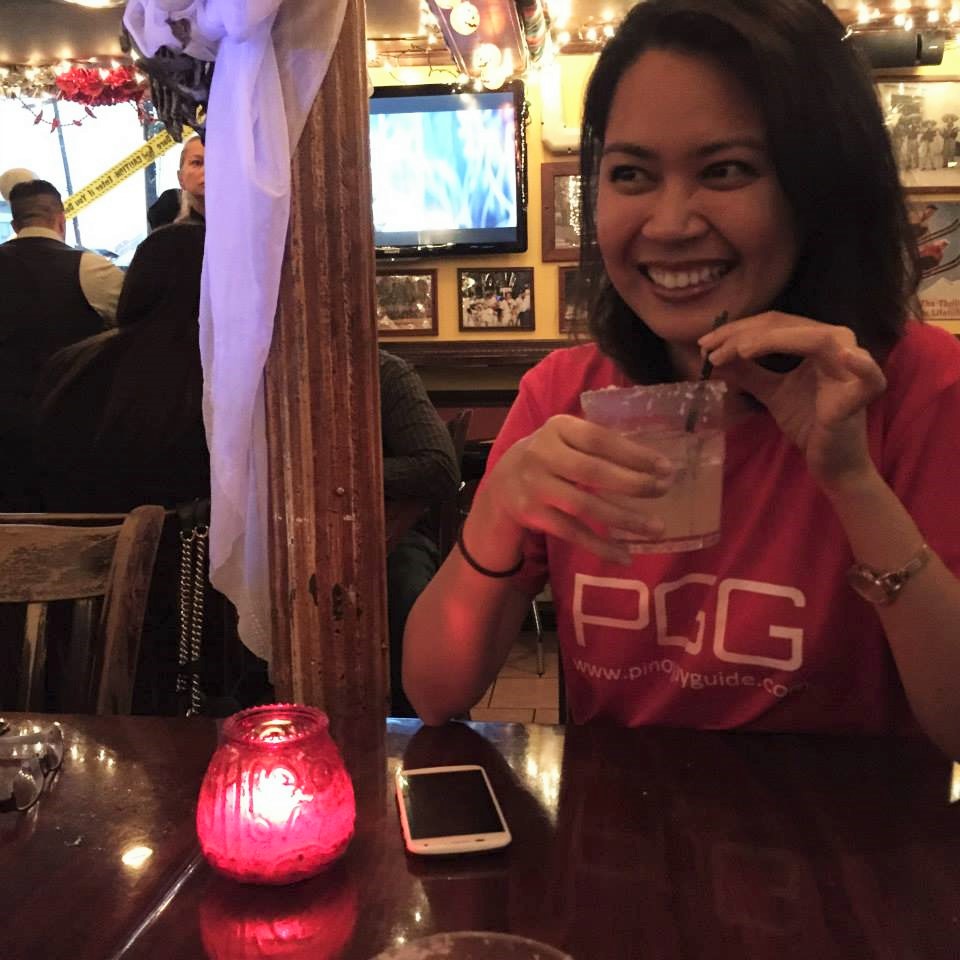 Yes guys, she wore the PGG shirt which I gave her before she left.
December 2014: "So what are we?"
At this point in time, Joan is already aware that I'm a blogger. And by that, she knows that I attend car shows, fashion shows, product launches, parties, and events in the city which I write for this blog. And for a girl, it is pretty understandable that it can be quite alarming and somewhat, jealousy-inducing especially when I post on Instagram photos with random people (and girls) I meet at an event like FHM's 100 Sexiest.
Because who knows if I end up hitting it off with some random girl I meet at a party, right?
But it is a double-edged sword too. I felt the same way about her. She's living in New York City, which is technically a city of singles, so what if she meets some blue-eyed guy there?
The paranoia was creeping in for both of us but I was pretty good at hiding it.
Now from October up to December 2014, we constantly communicated. To remove the pressure, we didn't label what our relationship was. We were just a man and a woman who talked to each other like boyfriends and girlfriends do but there were no labels, whatsoever. We did that while we were miles apart and while we were at completely different timezones.
And because a label did not exist, we were practically free to meet and even date other people, until Joan raised a valid and very important question to our label-less "relationship".
It was December 2, 2014 and Joan messaged me with a striking question that goes something like this.
"So what are we?"

To which I responded: "What do you mean?"

"This. I'm bothered because I don't know what are we. Are we dating? Because it seems like we are dating or in some sort of relationship but are we exclusive? Are we free to date other people? Because to make it straight to the point, I cannot handle an open relationship."
The seriousness of the conversation was overwhelming and was killing me. So to blow off some steam, I replied to her with a joke saying:
"Okay, sige na nga tayo na! Oo, girlfriend na kita. Haha."
She laughed and just said:
"Hay nako! Ang kapal. Haha. But seriously this whole thing that we have, whatever it is – it bothers me."
So I replied:
"Well, let's put it this way: I like you and you like me so why don't we make it exclusive? ;)"
She said:
"Are you sure?"
I replied:
"Yes! Sinasagot na kita! Haha".
She responded:
"Hay nako, GGSS ka na naman. Haha!"
But putting all jokes aside, we both talked seriously that day and agreed to commit to an exclusive, long distance relationship.
You see, I never believed in LDR and both of us knew it wasn't going to be easy, but we wanted to give it a try.
After all, what do you lose when you try?
And conversely, what do you lose when you do NOT try?
The latter sounds worse to me, in my opinion, plus I don't want another "What If" regret in my life. So we both decided to give this whole thing a try.
And so, as simple as that, she became my girlfriend and I became her boyfriend just a little over two months after we first met. Yes guys, I only met her twice in person and voila, I now have a girlfriend!
Finally, our relationship now has a label.
But here's the thing: we didn't let many of our friends know – only our closest ones. Heck, we didn't even post anything on social media about it. We just kept our relationship private, which I think felt better and something we preferred over making some loud noise and announcing relationship status on Facebook. Not that there is anything wrong with that, but you see, LDR is already tough on its own so keeping our relationship to ourselves, at least in the beginning, would allow us to focus and see how it progresses from there.
FedEx, UPS and online shopping have become our bestfriends
If you are in a long distance relationship, one of the biggest hurdles would be how to express your love and affection.
Being in an LDR means that you are already at a slight disadvantage because there is already a lack of physicality. So at the very least, all you could do to express how much you care is through gift-giving.
And speaking of gift-giving – it was December 2014 at that time, and without telling Joan, I was already secretly scouting for a gift that I could give her for Christmas.
Since New York City is literally freezing with snow during Christmas time, I thought of buying her something to keep her warm so I bought her this cute panda bonnet from Terranova to keep her head from the cold plus a Belle de Jour planner that most women like to have as something to start the new year with.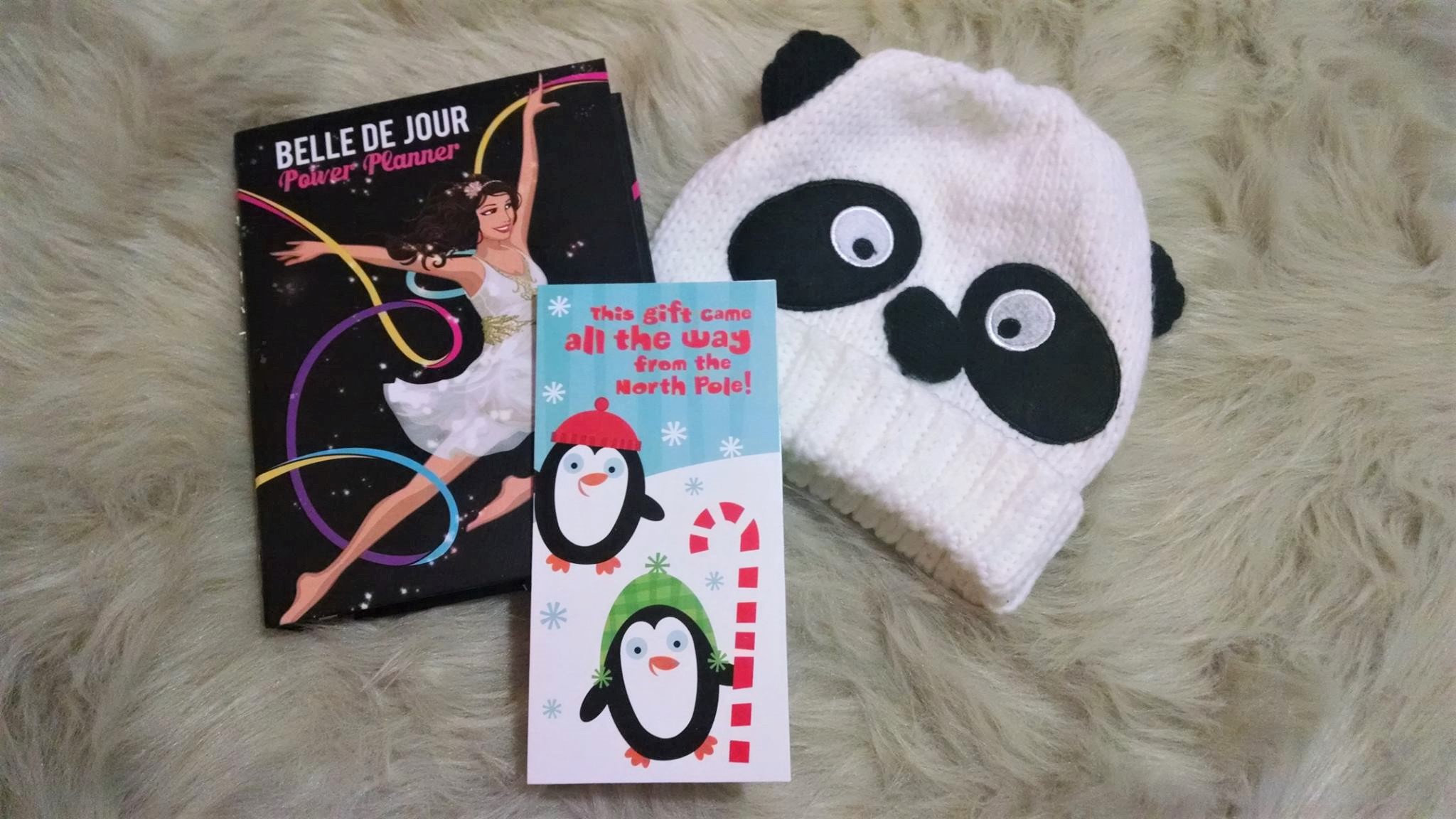 I added a Christmas card inside the package with a letter in it. I knew she would love the thoughtfulness of a tangible, handwritten letter. It is something uncommon these days now that we have email.
So how did I send all these to her?
Via courier of course! FedEx and UPS became our bestfriends and thanks to them, I was able to send my gifts to her just in time for Christmas.
While I was doing all that, she, too, was secretly buying me a gift on Amazon. And a few days before Christmas, I received this FIFA World Cup Brazuca Football Replica from her.
Being a huge fan of football, I was euphoric when I got this as a gift!
As you can see, gifts are supposed to be "personal" between a couple and so even if you read and learn about some gift suggestions online, nothing would compare to a gift that has been well thought of.
I gave her a Christmas gift that I knew she would need for the winter and she, in return, deduced from our conversations that I was a fan of football and that is why she bought me a football replica from the FIFA World Cup 2014 in Brazil. It was one of the best gifts I received that Christmas.
From that time onwards, online shopping became our bestfriend, too. Every occasion, whether it was Valentine's Day or Christmas or when any one of us were celebrating our birthdays, we would send a gift by courier.
Long distance relationships can be tough, but what is admirable about it is how each person in the relationship puts in the extra effort just to make things happen. You become creative, you become an online shopper, you make the most out of the technology available today and most of all, you spend extra money for gifts and courier fees just to express how much you value and care for the other person.
E-Dates is the key
Because we were oceans apart, we were very limited when it comes to dating options. Unlike couples who are in the same location and who can go to movies together, dine in at a posh restaurant on Friday nights and even go for out-of-towns during long weekends, LDR couples like us only have one option:
Video Calling.
Saturdays are usually reserved for Skype, Viber or Messenger Dates. We normally allocate two hours, every Saturday, for both of us to go "out on a date", not physically, but more like virtually – through video calls like this…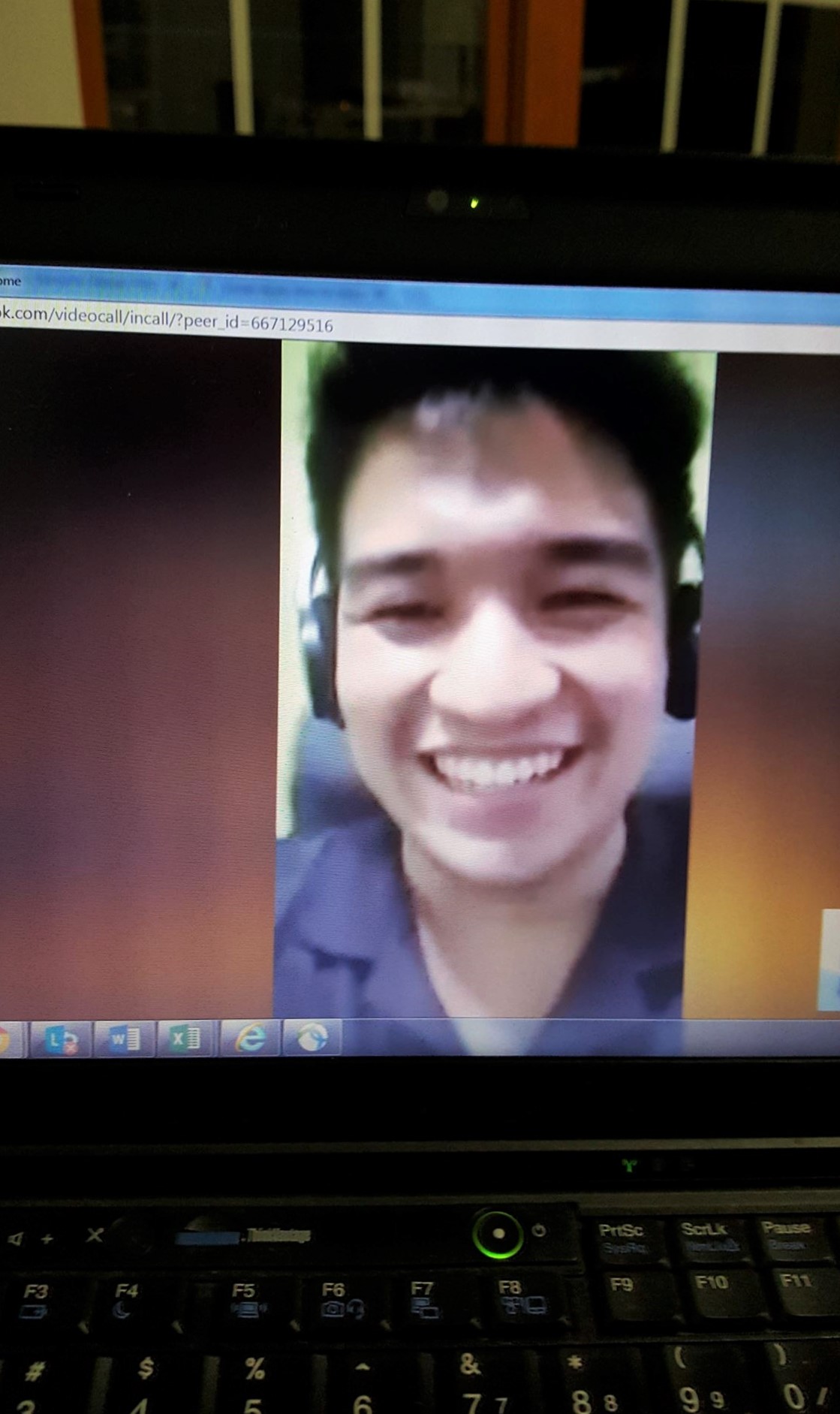 (So that photo is from Joan's point of view.)
Every 10 AM on Saturdays, we make it a point to video call where we talk with each other practically like we are in the same place. I watch TV with her with the video call on, she cooks in her New York apartment while the video call is on, I eat breakfast and she eats dinner while we are both in the same video call to give that feeling that we are on the same location, doing the same thing at the same time.
People might think that it looks silly, but these electronic dates via video calls are one of the keys that will help you survive a long distance relationship.
Handling Fights when you are in a Long Distance Relationship
With Skype and Facebook Messenger being our only alternatives to actual dates, miscommunication could easily happen.
I remember one of the big fights we had back in the day was when I failed to wake up early in the morning for our scheduled "Skype E-Date".
Joan stayed late until past midnight NYC time that day waiting for me to wake up and get on a video call with her.
Unfortunately, I overslept. I woke up 1 PM Philippine time (which is already 1 AM NYC) because I was extremely tired from the previous day's work.
When I woke up, I hurriedly checked Skype and sent her IMs but she no longer replied to any of my messages. She was upset and she didn't want to talk to me even if she was still awake. In short, I was seen-zoned. 🙁
I apologized, relentlessly, because it was my fault. But I didn't just say sorry to her via text message or via chat. Instead, I called her up via video call because I wanted to see her face and I wanted her to see me as I said sorry. I explained what really happened – by telling her how exhausted I was from work the previous day and why I woke up late. She eventually understood and she forgave me.
As you would probably imagine, one of the difficult things about conversing via instant messaging only, is that you don't get to see the other person's reaction and authenticity when you are just typing and reading messages.
So whenever we have misunderstandings like this, I would make sure to call her, on video, to make it look and feel like we are talking to each other, eye to eye and face to face. Seeing each other's reactions and facial expressions are necessary if you are in an LDR. Because no matter how emojis attempt to replicate people's emotions and facial expressions, nothing would ever compare to an actual tear, a beautiful smile, a contagious laugh and a sweet voice heard and seen live even if just on video call.
March 2015: Where are we heading?
The clock and the year went by so fast without us noticing and before we knew it, it was our 3rd monthsary!
It was March 2015 and we started to talk about more serious things in our relationship.
You see, relationships should have direction. And in most circumstances, you, as a man, should be leading the relationship and steering it towards the right direction.
Part of being mature in a relationship is being able to openly talk about where both of you are headed and eventually be able to also do a status check if you two are still on the same page when it comes to where the relationship is going.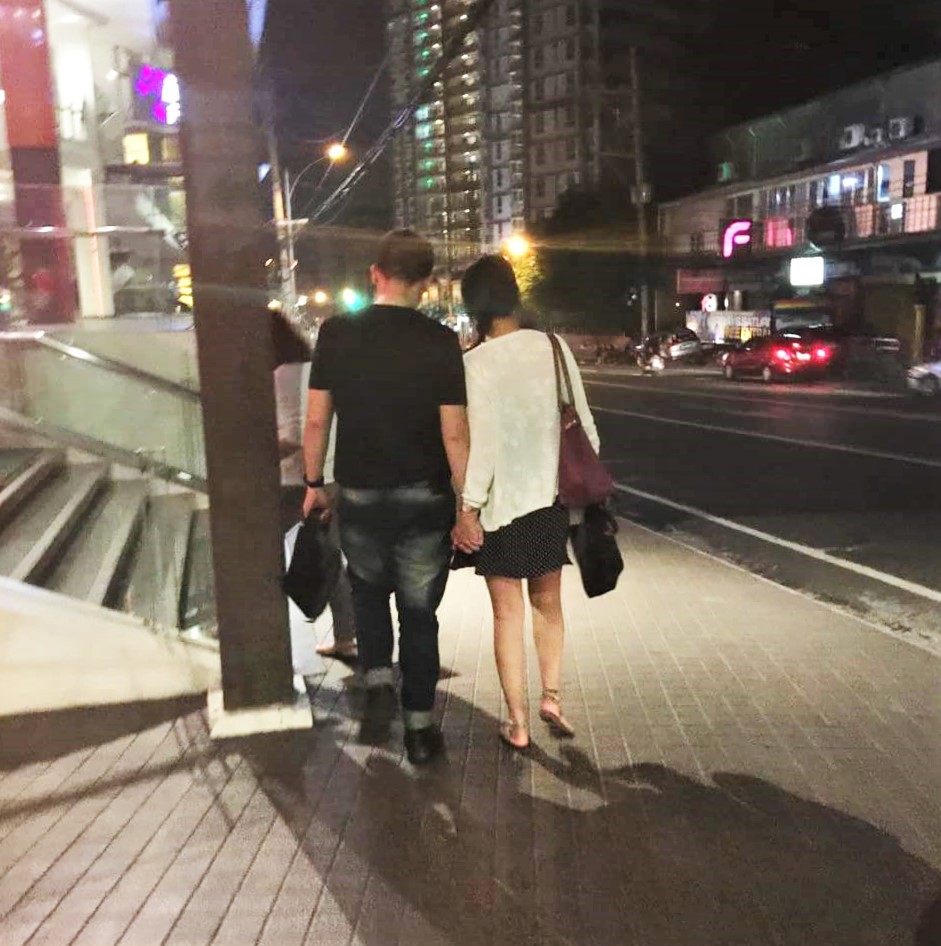 That being said, we then started pondering answers to very tough questions in our relationship. So one time, during one of our Skype dates, we played a fun question and answer game – but one which was a bit more serious in nature. It went something like this:
Chris: So are you OK with being in a long distance relationship forever?

Joan: Definitely not. You?

Chris: Why are you throwing back to me the same question? LOL

Joan: Hahaha, I just want to know.

Chris: No, I don't want to be in LDR forever.

Joan: Good. Haha. OK, the next question is: are you willing to move here to the US?

Chris: Ouch! That's a hard one. I don't know yet, because there are lots of things to consider. Family, friends, career and even PGG. But I don't know yet the answer to that question.

Joan: Right. It's a tough one.

Chris: OK, my turn hahaha! Are you willing to move back here in the Philippines?

Joan: You're so unfair, you threw the question back! Hahaha.
Chris: You did it to me too. So you have to answer me because I'm also curious to find out. LOL.

Joan: Well, I like it here in New York City. But I don't see myself living here forever. It's nice for now, but I'm not sure I want to have a family here.

Chris: Yeah, cost of living is high, right? It's NYC after all!

Joan: Yes, nothing here is cheap. Haha.
Now, next question: are you willing to visit me here even for just a vacation?

Chris: Why not? I'd love to go there and visit you. Maybe you'll be my tour guide.
Joan: Of course… But my rates aren't cheap. LOL.

Chris: It should be free for me. I'm a good entertainer. I sing, dance and act. I could make you laugh hahahaha.

Joan: Act? Errr. Haha.

Chris: Kidding. LOL. But wait, it's my turn to ask: How many babies do you want?

Joan: Hahahaha! Are you serious? What kind of question is this?

Chris: I'm curious. LOL.

Joan: Three? What about you?

Chris: Unlimited. Hahaha jk.

Joan: OMG! Haha!
So we were talking about all that when suddenly, our common friend Katz, who lives here in the Philippines, called her on the phone. The call was pretty long so Joan and I both hang-up and agreed to call each other the next day.
The following day, I called her and asked why did Katz phone her.
"Was it important"?, I asked.
Joan replied: "Actually, yes. She's getting married in October 2015 and she wants me to be her maid of honor".
"What? Really? So what did you say?", I asked her.
"I said sure, it would be an honor! So I guess you and I will see each other in October this year? :)", Joan said.
"Wohhhh OMG YES! I can't wait. Can we fast forward the time to October?", I said.
"Excited ka. Haha", she replied.
So thanks to our friend Katz, making Joan her maid of honor meant that we will get to see each other again in seven months.
I've read somewhere that one of the key ingredients to making a long distance relationship work, is to have something to look forward to. There should be a definite date when the two of you would meet again. It should never be open ended.
And because of that, we now had a glimmer of hope. Joan and I both had something to look forward to.
July 2015: That Hilarious Semi-Proposal
As early as July 2015, Joan and I started talking about our plans for October.
And because she only had about a three week stay here in the Philippines, we needed to make the most out of it. So we talked about plans for the second date, activities that we would do together, where we would go for a road trip and how we would squeeze in all the things that we wanted to do while she's here.
We talked about all these plans and scheduled the itinerary together while we were talking on Viber.
While I was talking to her and making plans, I paused and for a brief couple of seconds my thoughts wondered. It was then that I had a small realization that yes, she might be "The One".
I wasn't sure what was going on in my mind and heart that day, but while we were still on a video call making plans together, I stared at her eyes, interrupted her as she was speaking on Viber and then suddenly blurted out:
"What if we get married?"
Joan was caught off guard and was completely surprised. However, before she could utter a word and before I could even see her reaction to my question on camera, I see this on my phone:
"Your Wi-Fi got disconnected".
My reaction was like:
"WTF? What the actual F*CK? Of all times my Wi-Fi would drop, it was when I asked the most important question of my life."
Sadly, I never had the chance to see what her actual and impromptu reaction was. Yes it was frustrating, but on a positive note it was one hilarious and memorable thing that happened to both of us. It even makes a good story to tell, right?
When the Wi-Fi reconnected – Joan was back to her composure and I would NEVER know for sure what her actual reaction was to my sort of proposal.
I joked afterwards by asking Joan to repeat and reenact her response to my question, but she just laughed out loud because she couldn't do it again anymore.
She just described it to me then saying that her eyes opened wide when I semi-proposed on Viber. She was in total shock and she didn't know what to do nor how to respond because it was completely unexpected. She got giggly and she ran back and forth to her apartment's living room and bedroom. She got excited about the idea of the two of us getting married but she didn't know what to say because she didn't see it coming out of the blue.
But I'd like to clarify one thing: My question to her wasn't "Will you marry me?". At least, not yet. My question was more of situational when I asked "What if we got married?".
So I wasn't really expecting a YES or NO answer. It was more of me checking how she would feel about the idea of the two of us getting married.
Now in retrospect, maybe you are thinking that I was stupid to drop the question out of the blue.
But actually, there are two valid reasons why I did that:
First is, I wanted to find out if she was starting to see me "as the one" in the same way as I'm starting to slowly see her as "the one".
Two is more of a reality check. Knowing that we both do not want a long distance relationship forever, then either I would move to the US or Joan would move back here to the Philippines for good.
But let's face it, leaving everything behind – our careers, our friends and our families is a huge sacrifice that is not easy to make. Why would you sacrifice everything if there is a big possibility that you two might still break-up and won't end up together?
Practicality-wise, I am absolutely sure that neither of us would want to make the giant leap of faith of leaving everything behind without some sort of assurance that someone is there to catch us when we jump and land to the other side. So both of us have to be sure that we have something more permanent to look forward to. That is, a relationship that goes beyond the boyfriend and girlfriend stage and one that is tangible enough and would eventually lead to getting married.
September 2015: The Official Second Date
Our friend Katz, was getting married on the 10th of October but Joan arrived in Manila a couple of weeks before that. She intentionally arrived earlier because not only was she going to perform her maid of honor duties, but also, she wanted to make sure that we get to spend a longer, quality time together.
September 28, 2015 was THE day.
One year after we first met, we will finally be meeting again, in person, for our second date. But this time, it's different because we are now "officially" a couple.
Who would have thought?
The 28th of September was a Monday and I intentionally came to work as early as I could because I knew it was going to be a long day ahead. I reported to work as early as 7 AM wearing a new, long-sleeved shirt from Mango Man.
Now if you have been a follower of Pinoy Guy Guide for some time now, you would notice that I would always encourage men to give flowers to women they date.
Why is that?
Because it has always been my belief that giving flowers is the most obvious, non-verbal way, to express to someone how you feel about them; without necessarily uttering the three words that every girl would want to hear, but guys couldn't easily say.
And so, putting my words into practice, by 10 AM on that day, I hurried to a nearby flower shop where I ordered a bouquet of roses.
Our scheduled meet-up was at 5 PM at Starbucks RCBC Plaza. I was both anxious and excited the whole day so I couldn't really concentrate at work. After all, we will be meeting again for the second official date, not as mere acquaintances, but this time as boyfriend and girlfriend.
When the clock struck 5, I made my way out of the office, carrying my bag and a huge bouquet of roses on my right hand. As you would imagine, it was not Valentine's Day so people were staring at me the whole time as I carried the bouquet. E for Effort!
When I opened the door at Starbucks, I immediately spotted her on the far end of the coffee shop sitting on the sofa. She was wearing a striped dress and she was stunning.
As I approached her, I smiled and hugged her and said:
"Hi Gorgeous".
And I handed the bouquet to her.
She laughed and said.
"Haha. Hi Heartthrob!".
If you were present at that time, watching how the whole scene unfolded, you would easily notice how awkward and nervous Joan and I were in front of each other. We were both fidgeting and quite uncomfortable after meeting again, because technically, this would only be our second official date and as it turns out, we are already a couple! And because of that, the expectations and the stakes are now higher as compared to our first date.
Our body language was pretty awkward too. Because even if you felt like you have known each other for over a year now; being in front of the person, physically, is far more different that merely video calling with them on Viber.
To add to all that pressure, our subconscious is telling us that we should behave as a couple. Our minds keep telling us that we need to execute some sort of Public Display of Affection. Haha.
So even if it was just our second official date, I extended my cold hand and held hers tight.
She knew I was nervous.
I felt that she was nervous, too.
But we just went with the flow and tried to act as if everything was normal.
Thank God, we slowly warmed up and got used to being officially a couple.
From RCBC Plaza, we walked hand in hand along Ayala Avenue, passing through underpasses and along Ayala Triangle Park. We decided to go to Zuellig Building – the beautiful all-glass building along Makati Avenue; because we heard there was a classy restaurant there called Terraz Bistro.
At Terraz, we ordered their bestsellers, which I unfortunately don't remember because I was busy with the date.
To cap off the night, Joan and I toasted to a glass of Sangria.
Here's our first official picture as a couple.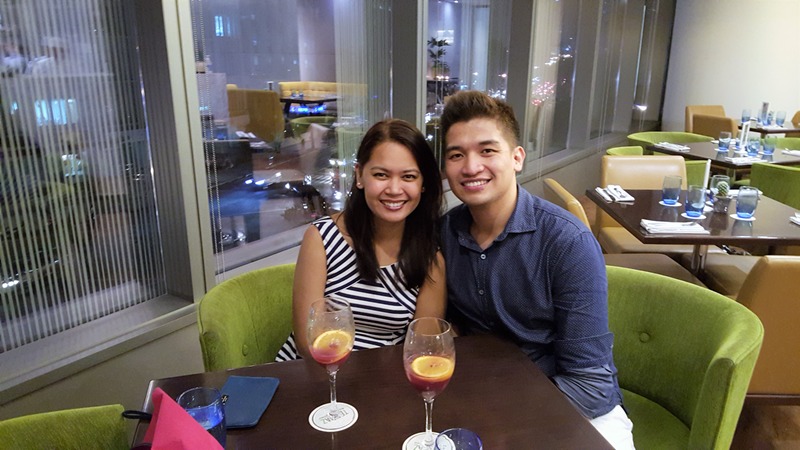 It was a fun and memorable date but we still had a lot of catching up to do to make up for the lost time that we were not together.
After dinner, we kissed, on the lips, as I took her home. (It was a first between us).
In the days that followed we did a lot of things as a couple.
We went for a painting class at Sip & Gogh.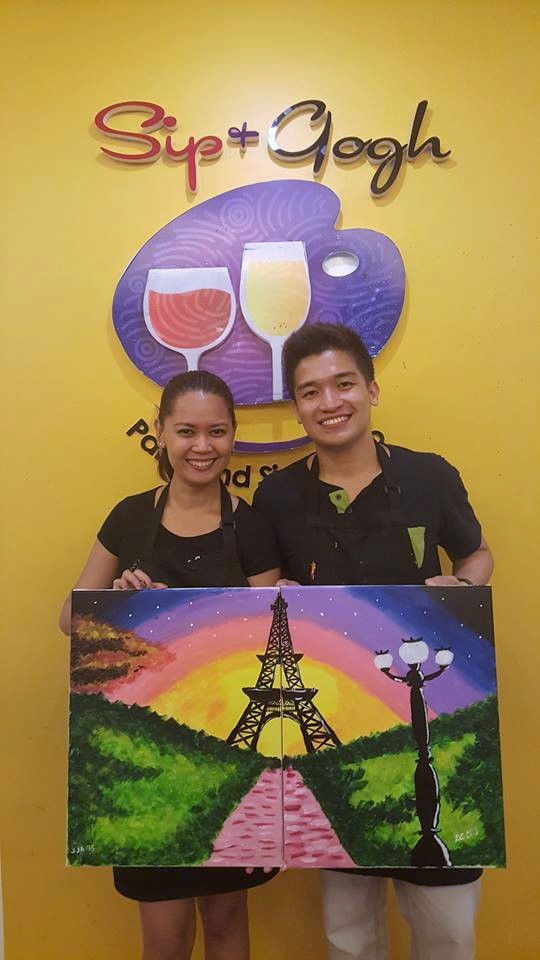 We attended Coca Cola's Blog Event where they took a cool bubblelizer video of us. 🙂
I took her to blog events on purpose, because I wanted her to see what life would be like when she's dating someone like me who blogs as a hobby. Would she be thrilled? Or would she be bored?
Luckily, it got her thrilled because she was pretty much a social media person too.
Afterwards, we attended our friend, Katz' wedding where Joan was maid of honor.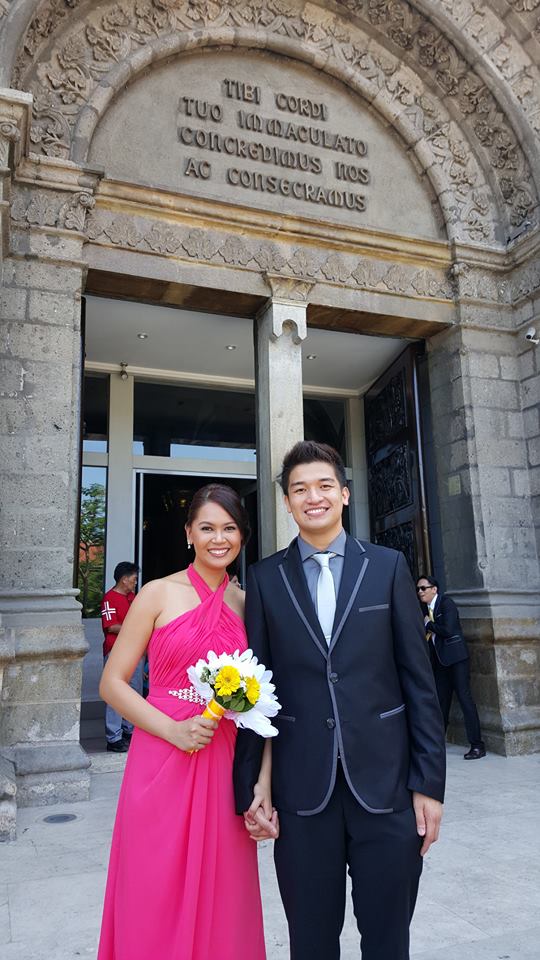 Then I also got to meet Joan's parents and her siblings and she met my whole family as well.
We visited the historic Barasoain Church in Malolos which is just minutes away from my hometown in Bulacan.
And then we had countless more dates!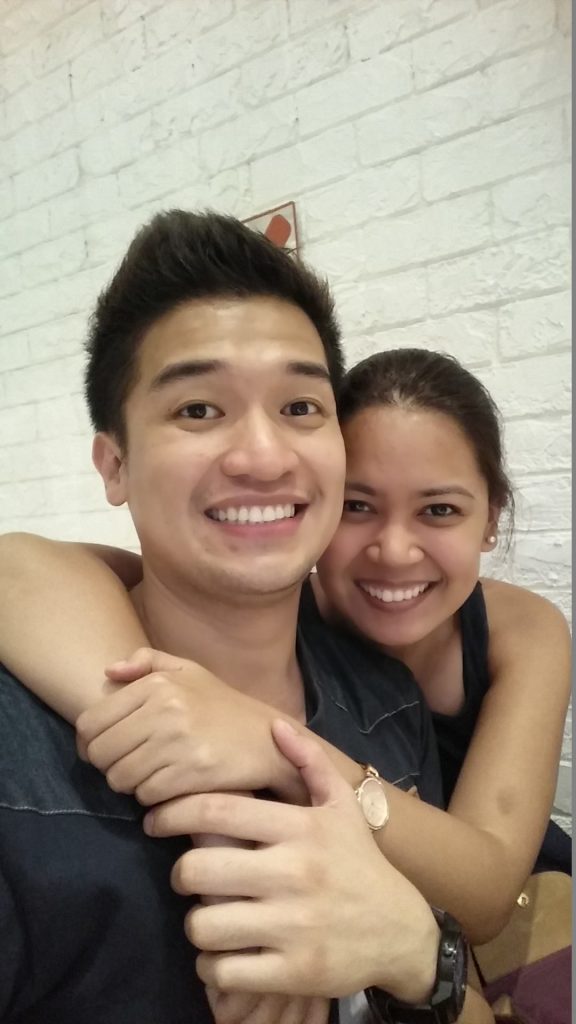 Then for our final and grandest date, we planned for a road trip to Tagaytay.
* * * *
Just like the movies, everything that we were experiencing the whole time, up to this moment, were the happy parts of being together.
In relationship terms, we were sailing smoothly as if it was some sort of "honeymoon" stage where everything was going peaceful, sweet and sound.
Each day I sweep her off her feet and give her butterflies in the stomach. She did the same thing to me and I felt that as a guy, she was the girl who stole my heart.
But not all relationships are perfect. Not all relationships are problem-free. We were just enjoying and having the best time of our lives, because we knew that a storm is coming.
A storm which we've been trying to avoid all along. A storm that we wanted to delay for as long as we could. A storm that could either make us stronger as a couple, or could tear us apart into tiny pieces. A storm in the relationship which I don't know if we would ever survive.
And when I speak of "The Storm", what I am actually referring to is the "Make or Break" conversation that we both knew we were going to have sooner or later before she returns to the US.
The make or break conversation that would finally answer the tough questions like:
Where do we go from here?
Would I fly to the US so that we could be together?
Would I leave everything behind, including Pinoy Guy Guide and its readers, which I built for almost ten years and is currently at its peak and now have a solid following?
Would Joan move back to Manila so that we could be together?
Would Joan let go of her career in New York City that one could only dream of?
Would one of us be willing to leave behind our families and friends?
Would one of us be willing to give up something? Or could we both arrive at a compromise?
Or worse, after all that we've been through, are we just going to break-up?
Story to be continued here:How I Met The One Part 3: The Storm