I live a dual life. I'm a software engineer by day, and during my free time, I'm a blogger. That being said, the stuff that I bring along with me when I leave home day in and day out varies. One day I bring my laptop with me and the next day I bring my camera. On some days I need an extra shirt and gym gear while on some I need a bunch of reading materials. But on some rare occasions, I need all of the above in one go. It's a crazy life, but it's fun.
In this post, I will be talking about two of the most useful products from STM that support my role as an IT professional and blogger at the same time.
STM 15-inch Trust Messenger Bag
You may have noticed that I have been using STM backpacks as evidenced here and here and to date, their bags have done a pretty great job in protecting my devices.
While backpacks are very convenient to carry around, they don't go well with your business casual attire. See, in my experience, there are some hectic days where I need to go from ultra casual attire to a smart casual one and anything in between. And my biggest problem during those kinds of days is that my backpack won't match once I change my outfit to a slightly more formal one.
But the good news is that STM has messenger bags like this one called STM Trust 15-inch laptop messenger bag.
What I like about messenger bags is that unlike backpacks, they easily match and go well with almost any outfit. This bag here, for example, can match my business casual attire as I report to work during day time and also pairs up well with my casual attire whenever I'm out covering blog events in the evenings.
It's awesome.
So let's try to dig into detail and deconstruct what is inside my bag.
See all this stuff here? I'll show you how I will fit them all inside the different pockets and compartments of this STM messenger bag.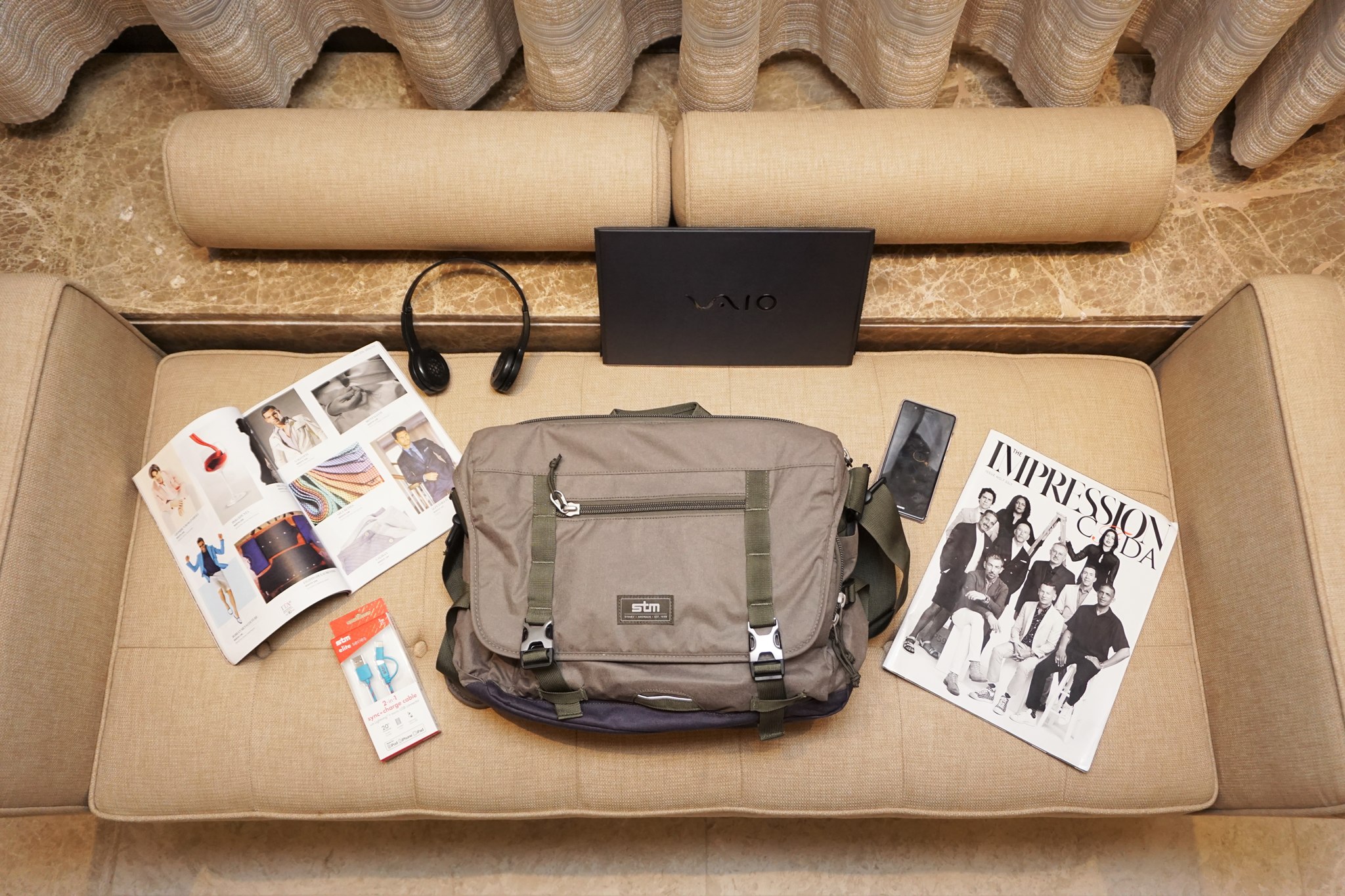 The bag has four main compartments. The first one is the rear slip pocket and it is where you can put in magazines or books that you read. As for me, this is where I carry my New York Fashion Week magazines which serve as some form of reading material when I'm stuck and bored in traffic or when I need to browse through something to draw my daily inspiration from.
See that mag? It gets tucked safe and sound at the rear pocket right here.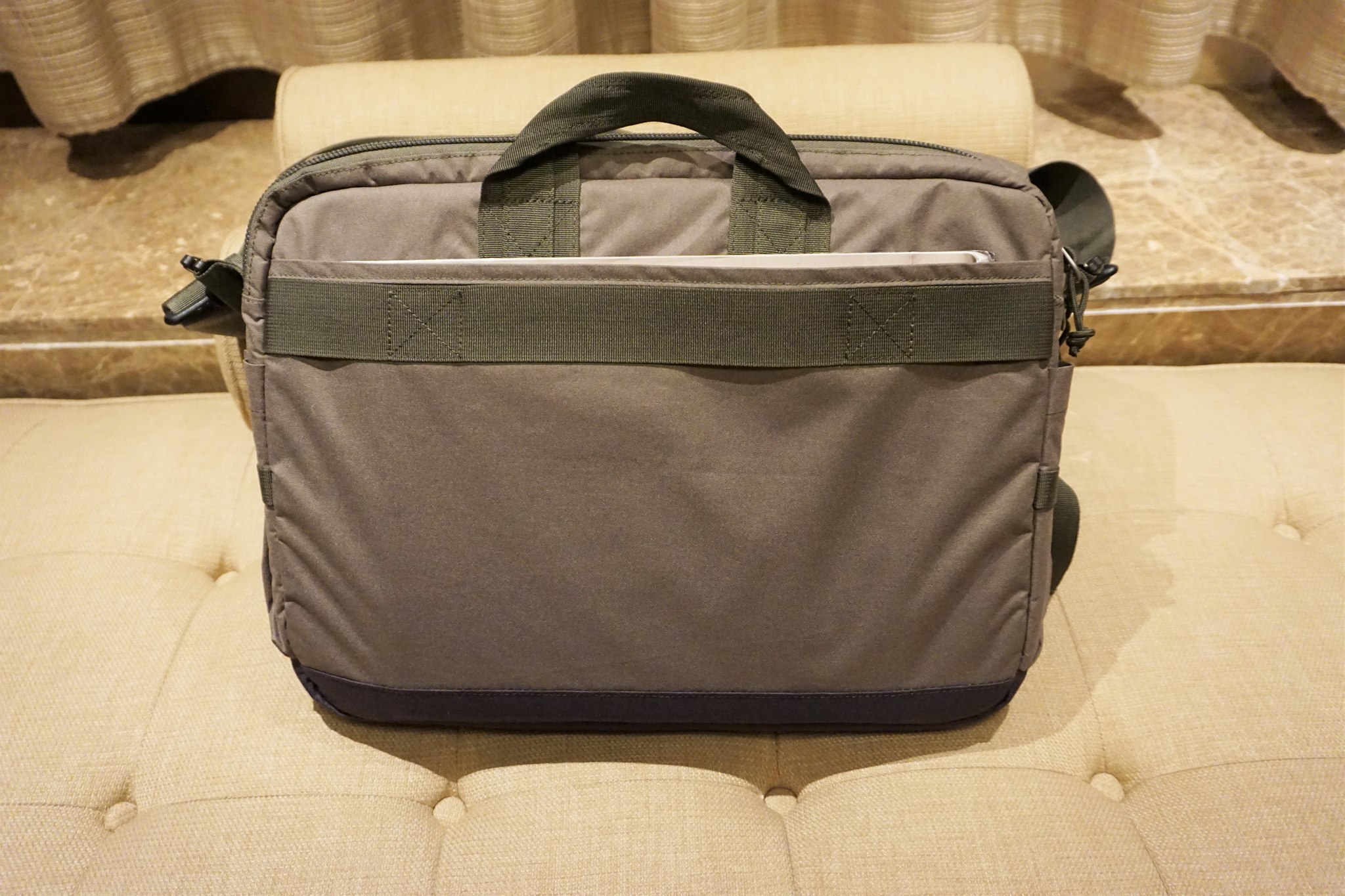 Next to the rear slip pocket is the laptop compartment. Do you see this well-cushioned pocket with the light blue lining inside?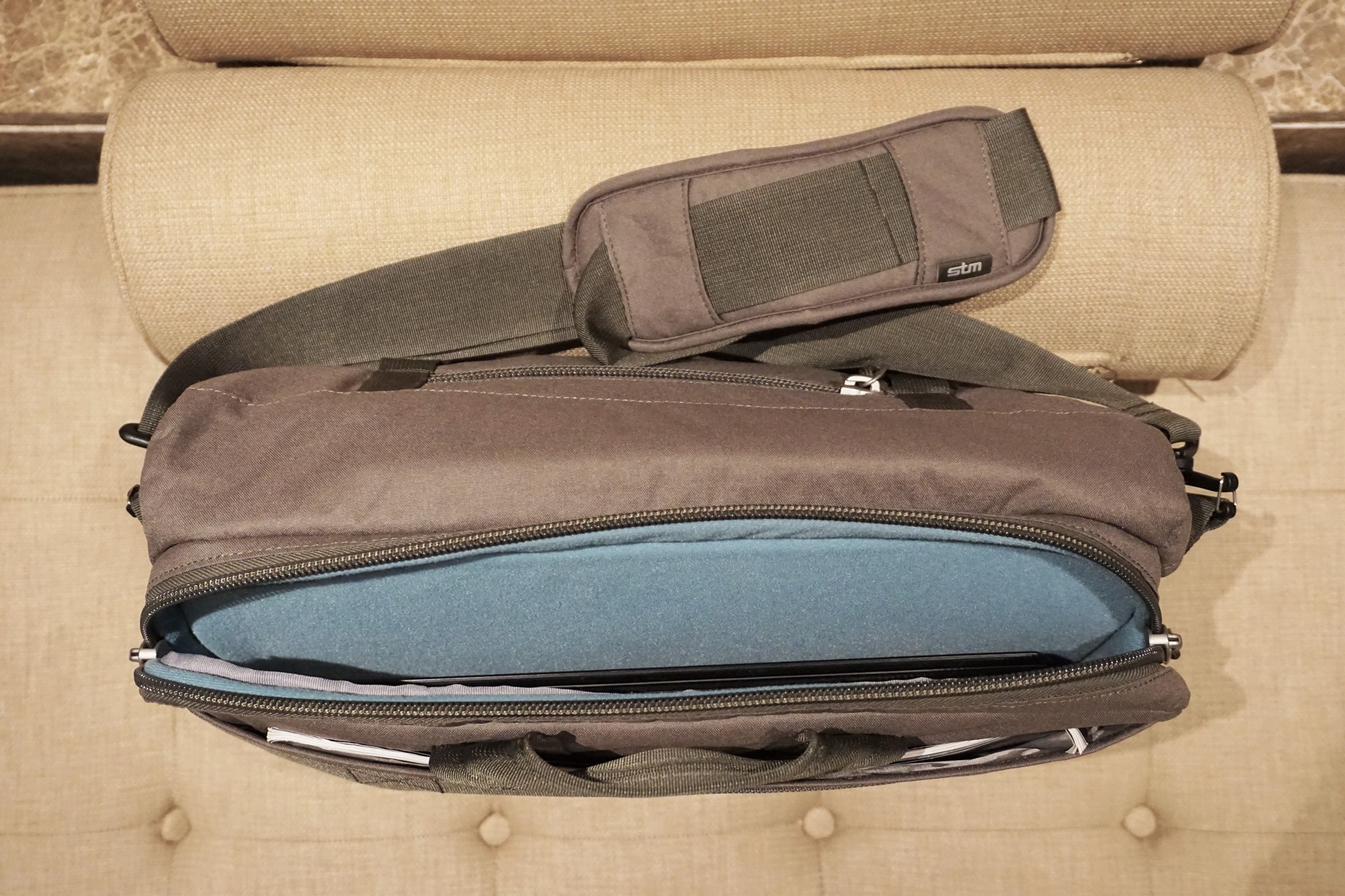 That is where you can carry your 13 or 15 inch laptop with you. When the zipper is closed, the laptop compartment is hardly noticeable. I almost didn't see it at first sight. I guess its some sort of anti-theft camouflage.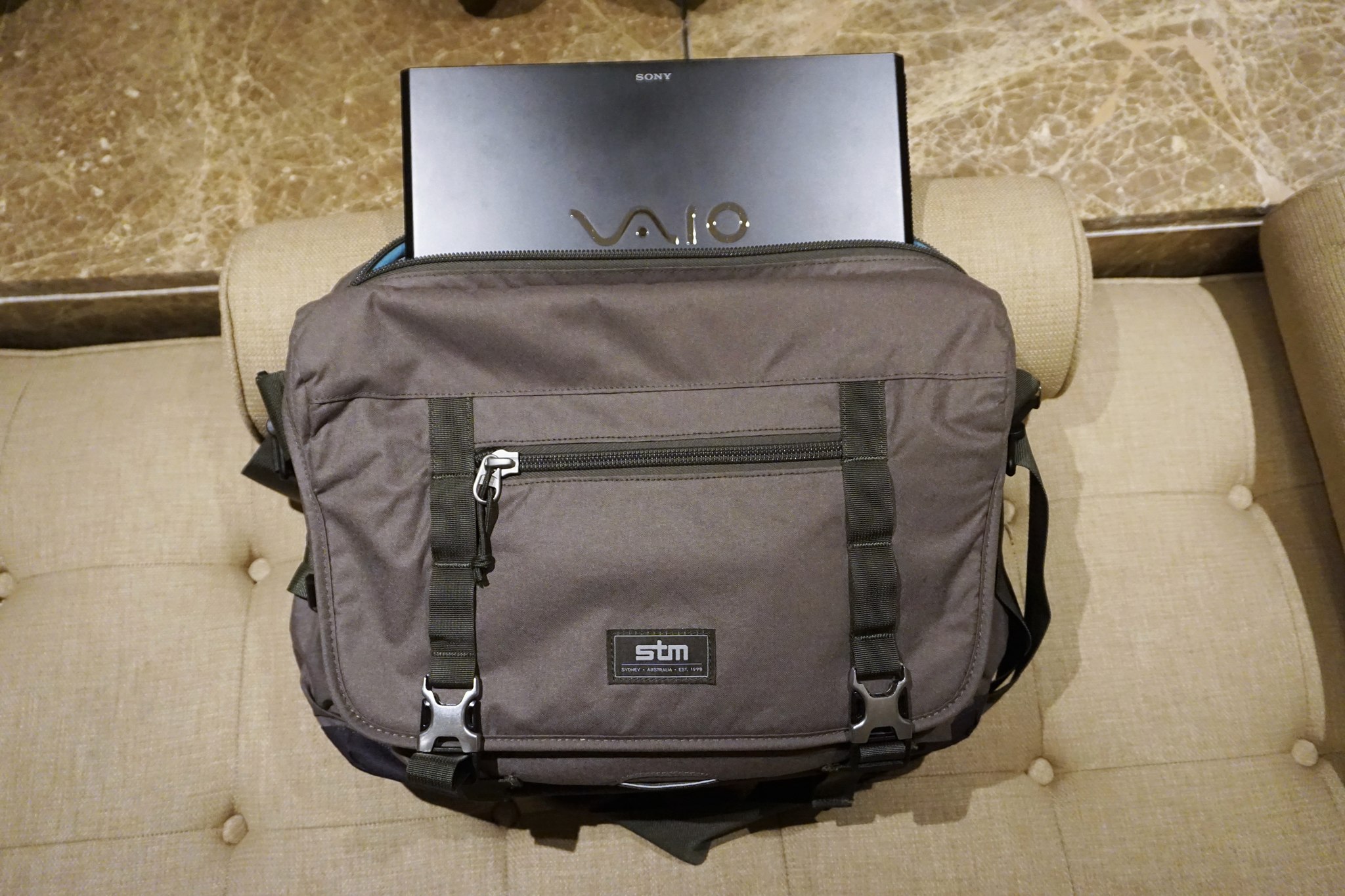 Next to the laptop compartment is the main compartment situated in the middle of the bag. It is where all my other stuff goes including my tablet, my phone and my mirrorless camera which I use for taking event photos. It even has extra room for gym clothes and shoes.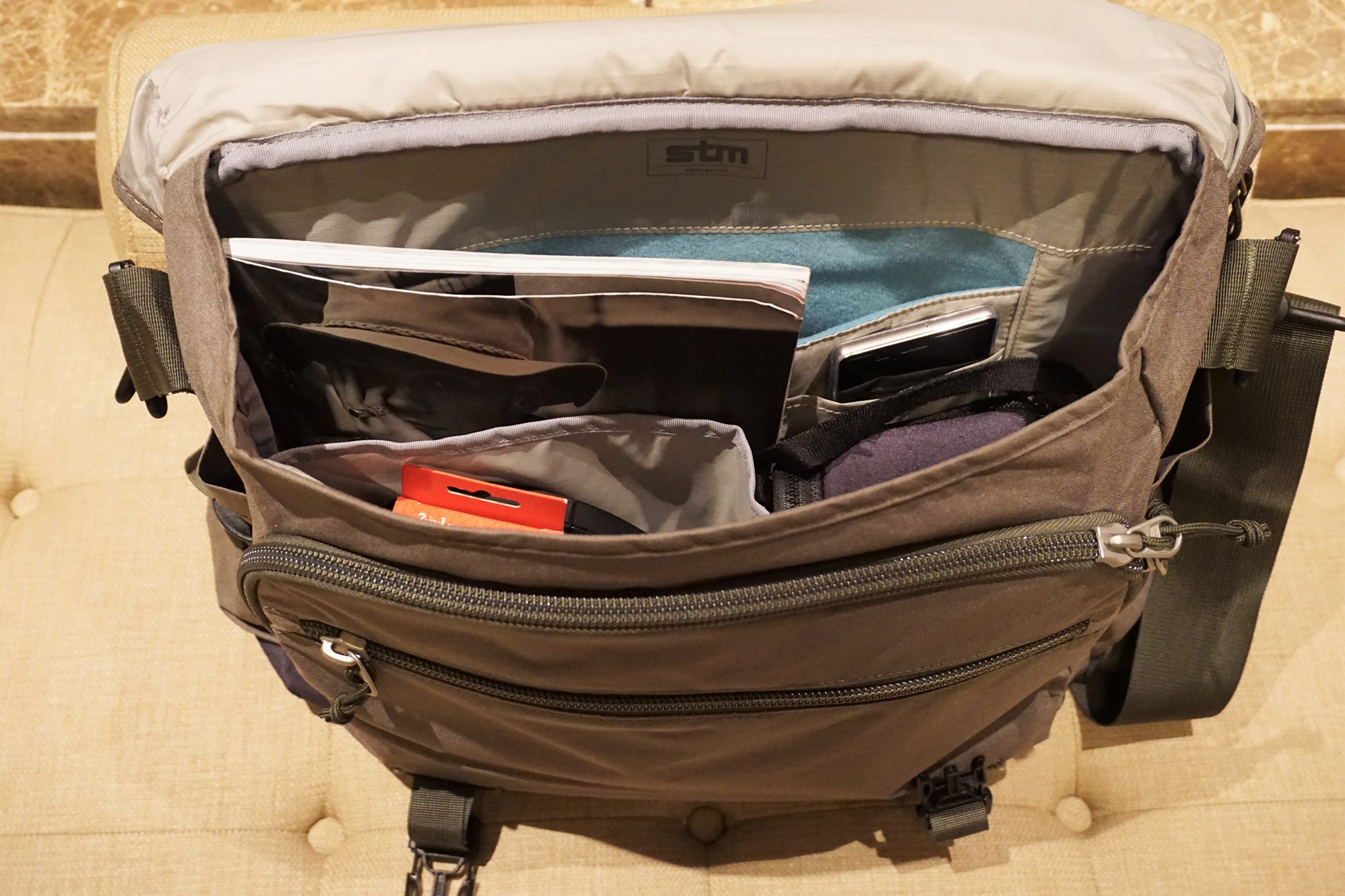 Then we have the front compartment which is where I have all my laptop's accessories including its charger, wireless mouse, external hard drive and other peripherals. I love how easy it is to organize my gadgets and devices into separate compartments inside STM bags.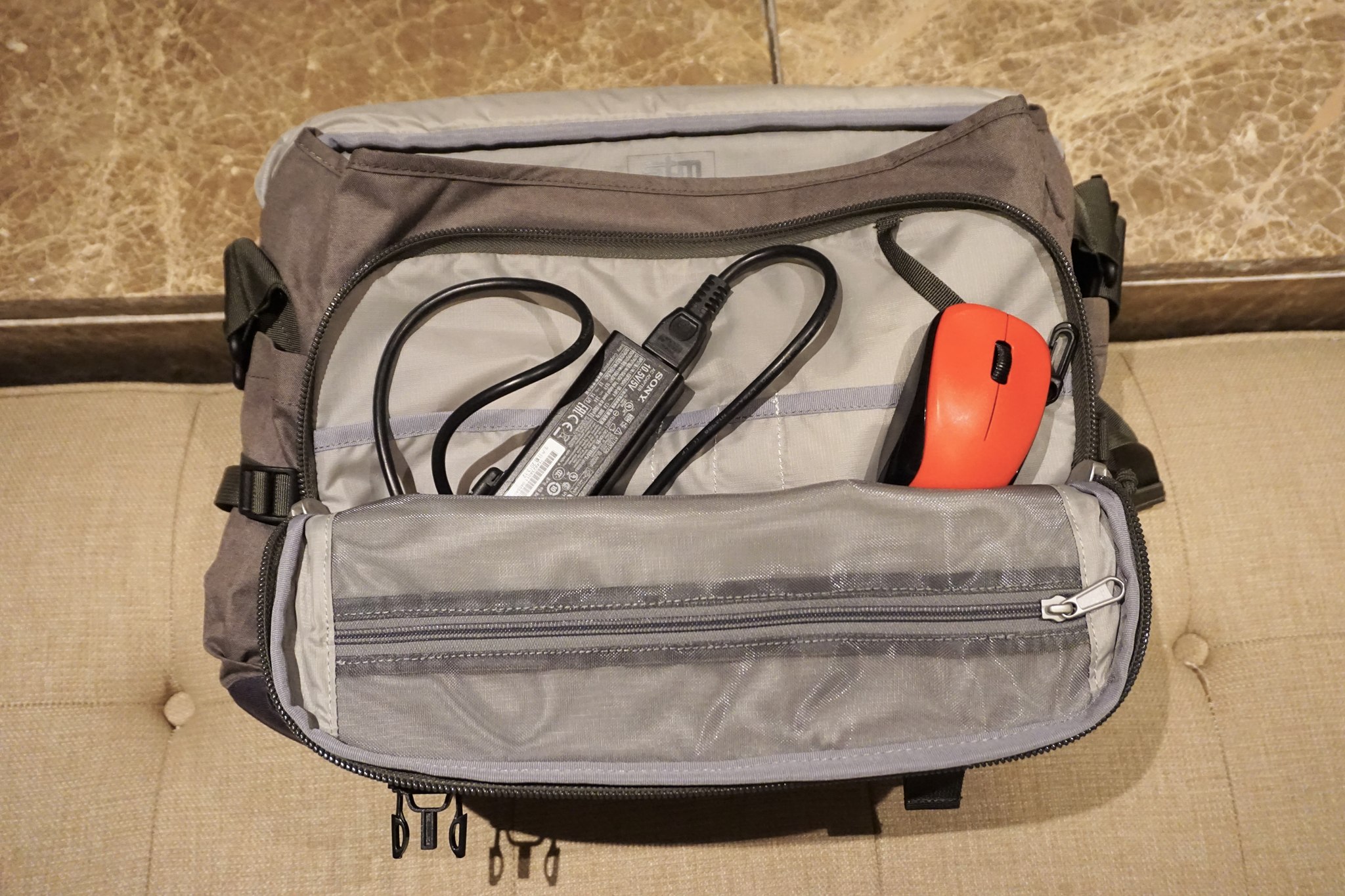 The flap of the bag that covers the main compartment has a small pocket too. I usually place my wallet and identification cards right here since I have the need to pull it out every now and then.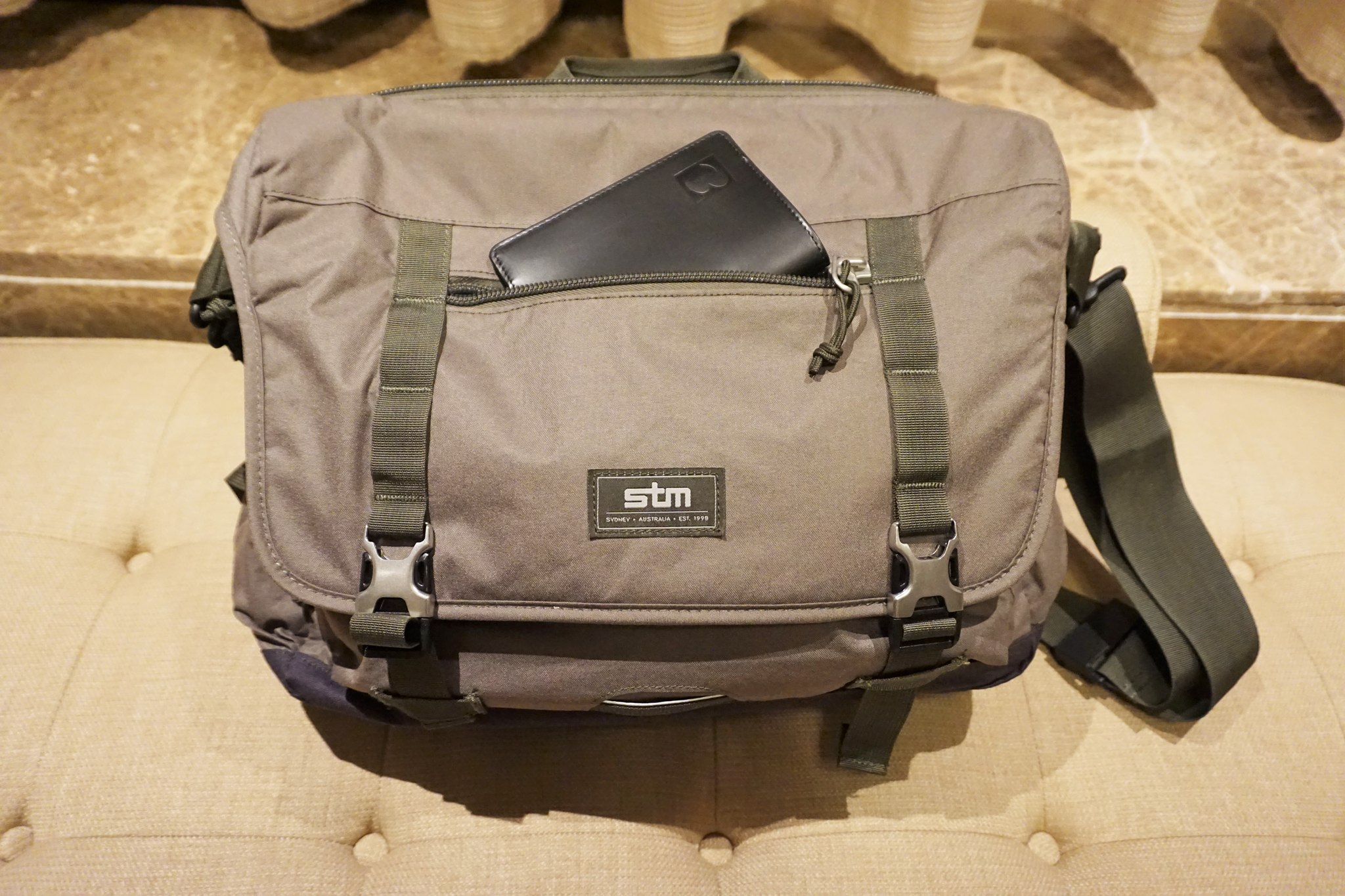 And we are not done yet with the pockets because at either side of the bag, what you will find are side pockets where you can insert your bottle of water or in my case, my favorite can of iced coffee.
Lastly, the bag also has an easy adjust shoulder strap. I find it to be a good feature of the bag especially if you are like me who have the habit of adjusting straps while I'm carrying the bag.



STM Elite Series 2-in-1 sync-charge cable
Aside from bags, I also discovered that STM produces a wide array of gadget accessories. Take a look at this one for example.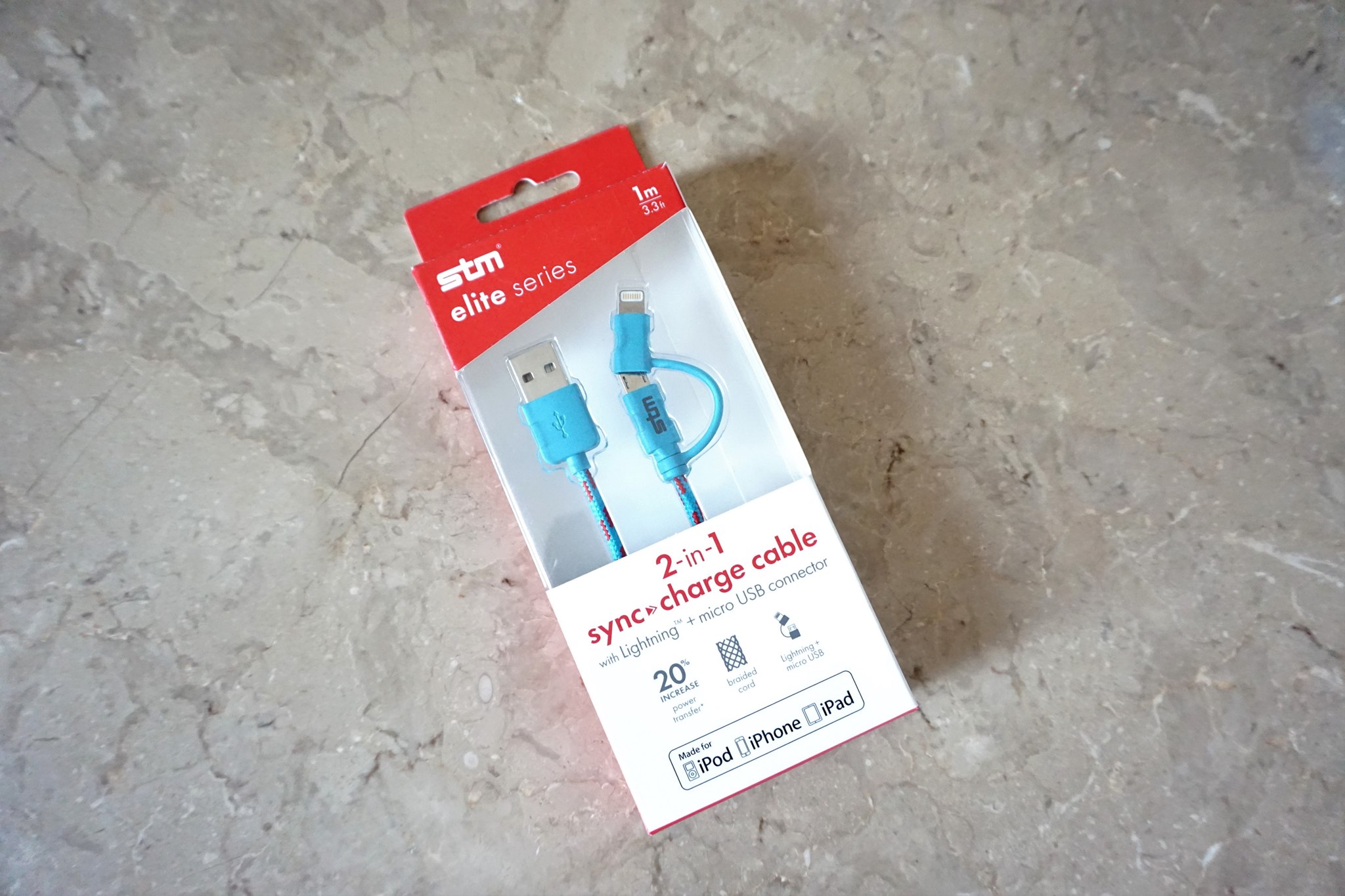 Dubbed as STM Elite Series 2-in-1 sync & charge cable, this accessory is for the dudes out there who have any (or all) of these devices: Android phone, iPhone, iPad or iPod.
What's amazing about this data and charge cable is that it has two connectors. One connector for Android (the micro USB one) and the other for iPhone (the Lightning connector) all in a single-braided cord.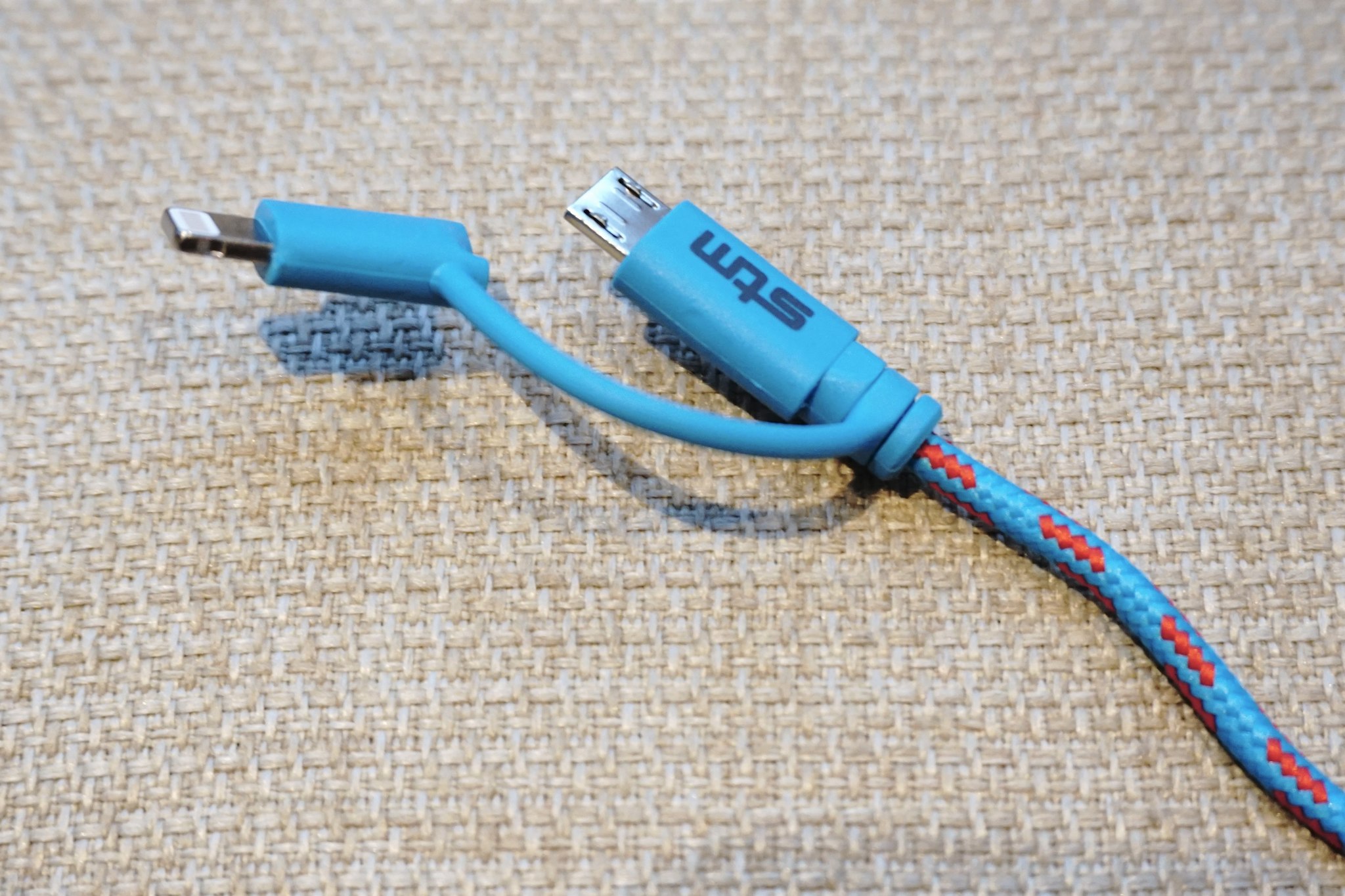 The braided-cord adds strength to the cable and also lessens the tangles.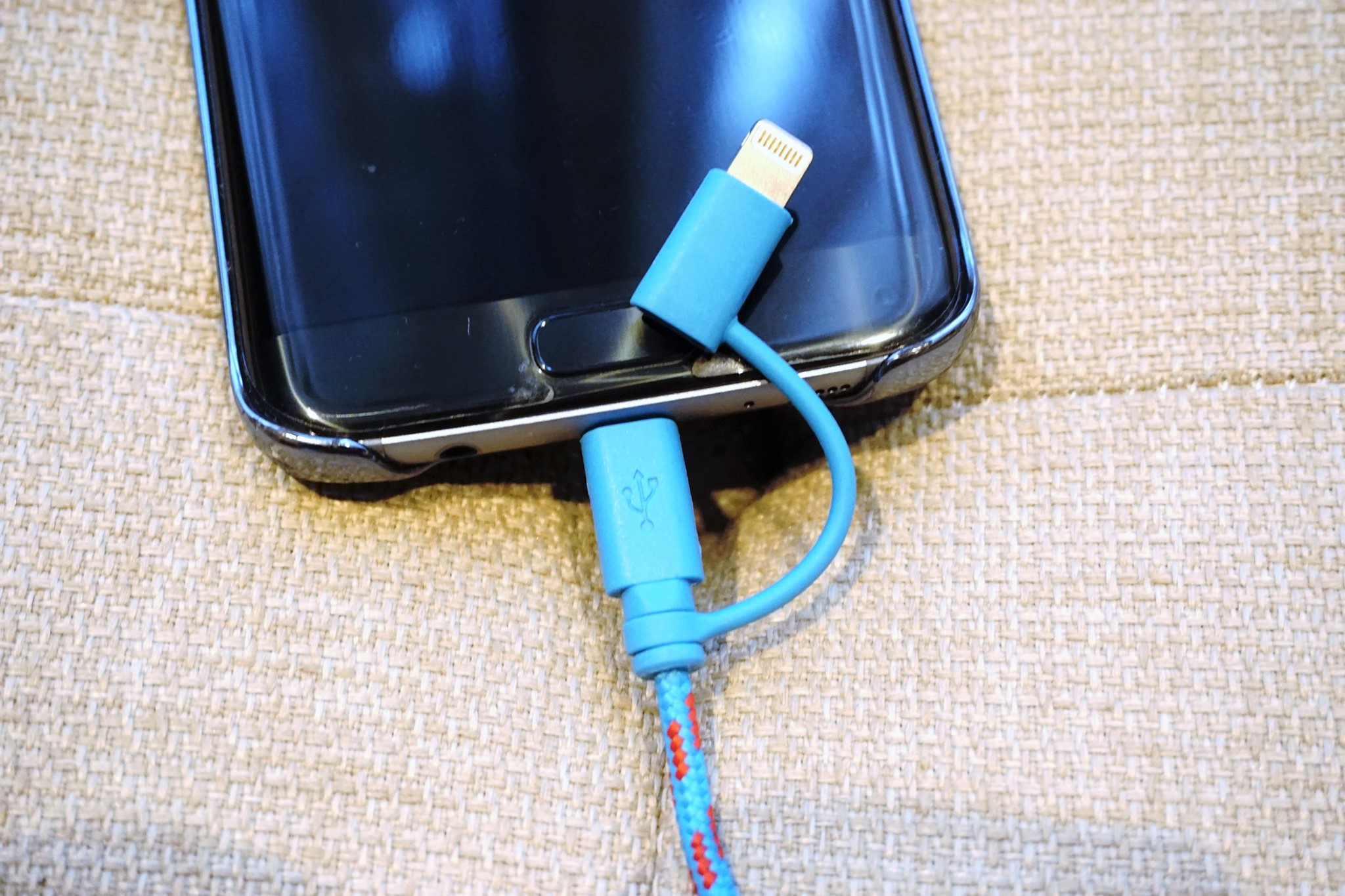 Now there is no need for you to buy two separate cables for Android and iPhone because this one from STM supports both in a single cord.
If you would like to see the STM Trust 15-inch messenger bag and the STM Elite Series 2-in-1 sync-charge cable in person, you can drop by any Urbanize Stores nationwide. Know more about STM on Facebook, Instagram and on their website.