Hey guys, before the year ends, let's have a recap of the most interesting stories that made it to Pinoy Guy Guide this 2011.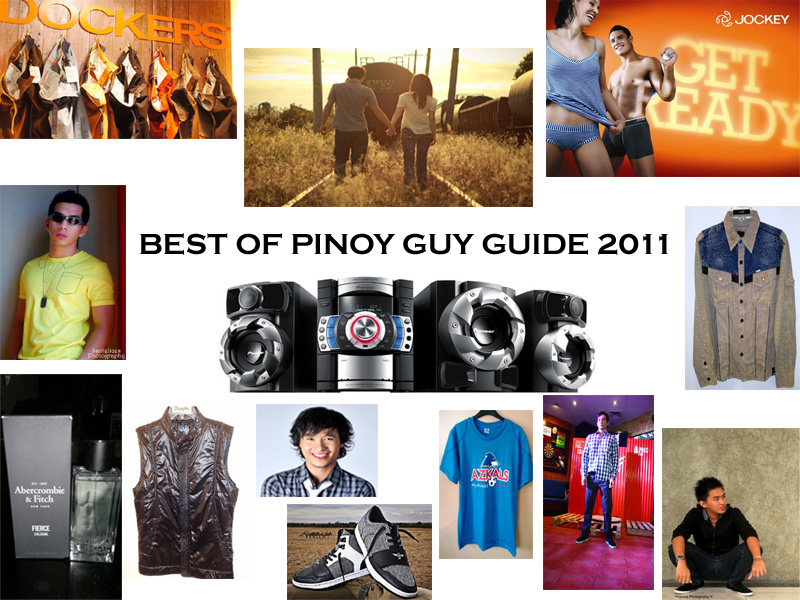 1. Pioneer RSM400DV Mini Component System – If you have a thing for music and love the strong bass sound that you hear in Republiq, Encore or concerts in Araneta or Mall of Asia, then this one is a must-have. Its beat will turn your house into a party club.
2. The Right Amount of friendship and attraction to become lovers – I wrote this article some time before Valentine's day. It's kind of a formula which gives you a clue on the right combination of friendship and attraction before you turn your date into a girlfriend.
3. Creative Recreation at Complex Store – Creative Recreation calls their shoes as "lifestyle shoes" – which means they are the shoes you'd like to have around on any occasion. I actually like their products. Even celebrities wear them. However, a particular problem I am seeing is that their shoes which are size 10 and above are always out of stock. It's sad that I wasn't available to buy one because they are not available. I am a size 12 by the way.
4. Coat + Jeans = Dressed to Kill –  Wearing a coat together with a pair of jeans and shirt is probably one of the biggest men's fashion trends this year. It's a style that is a hybrid between formal and casual wear. It turns out that this style clicked with the majority of the guys.
5. Ever tried an electronic cigarette? – I am not a smoker but I once spotted these electronic cigarettes in Greenhills. But I guess the most important question is – are they truly a better alternative to the regular cigarettes?
6. Wear an Azkals shirt to show your support – These shirts have been around throughout the year and I do hope that they are not just a fad. Let's continue to wear them and to show our support to the Philippine National Football Team. Thank you Azkals for awakening the football interest of the Filipinos!
7. Manila & Pilipinas on Collezione's Summer Shorts for Men – These Philippine-themed men's shorts (though expensive) were the coolest thing to wear last summer.
8. Filipino Men: the most Narcissistic in Asia – This is a very interesting news article that I came across. It says that we Filipino guys are too concerned about our looks? If it's true, I don't think it's really that bad. Let's just not overdo it.
9. Couple Shirts – It has been a trend for couples this year to wear these couple shirts. It can be cheesy for some but I guess it really depends upon you and your girlfriend.
10. Today's word is LEGS. Spread the word. – Some shirts are just so green, it makes you grin.

11. Dockers Alpha Khaki for the Alpha Males – Dockers pioneered the khaki revolution this year and the rest of the brands followed. These days, khakis are one of the best alternatives to your blue jeans.
12. Five things every guy ought to know when it comes to relationships – I'd probably say that this is one of my best and most favorite write-ups this 2011. It details the lessons (DO's and DON'Ts) that I have learned in my past relationships hoping that other guys will learn from them too.
13. Wrangler Men's Bomber Jacket – The name says it all. This jacket with removable sleeves is the BOMB!
14. The Surfer Dude's Hairstyle – For 2011, the surfer dude's hairstyle stood out among all other men's hairstyles. Mind you that they are great for any season, not just summer.
15. AntiFit: A brand to watch out for – A very promising men's clothing brand. Check them out when you go to department stores.
16. Feiyue Shoes and Sperry Top-siders now in Manila – Two shoe brands with different styles and different origins that have found their way to the Philippines.
17. Nerdy Glasses – If there is one men's accessory that became an instant hit this 2011, it would be none other than these Nerdy Glasses.
18. The World Is Just Awesome – Check out these statement shirts brought to us by Regatta and Discovery Channel. It seems that this year, intelligent and smart look is in.
19. International Men's Day and PGG's Male Role Models 2011 – Last International Men's Day, PGG picked Pacquiao, Babbage, apl.de.ap and Beckham as four male role models of 2011. Read the write-up to find out why.
20. Smart Casual Men's Collection from Crocs – Crocs goes from the usual sandals to shoes. Check out more of their men's collection here.
21. Onésimus White Stylish Jacket – I wonder why PGG readers did not like this jacket that much. Maybe because it's so white that it easily gets dirty? I don't know. Trust me guys, it looks better if you see it in actual compared to what is shown in the photo.
22. Abercrombie & Fitch Singapore and their Fierce Men's Cologne – Just this December I witnessed the grand opening of Abercrombie & Fitch Singapore. I just can't get enough of Abercrombie's Fierce Men's Cologne. It is one of the best men's fragrances that I have smelled and owned so far aside from Lacoste Essential.
23. Show Your Style Season 2 – How could we ever forget the very successful PGG's Show Your Style Season 2? This 2011, PGG received so many entries from all of you that we had the entire contest running for over two months! Congratulations once again to the winners and thank you to all the participants for showing what you've got and for inspiring PGG readers as well.
Special thanks to Jockey for being the official sponsor of PGG's Show Your Style Season 2!
______
That wraps up the year 2011. So tell me, which article is your favorite and why?
Once again, Merry Christmas and a very Happy New Year to all of you dudes! Cheers!
Connect with Pinoy Guy Guide via PGG Forums, Facebook, Twitter or Email Subscription.