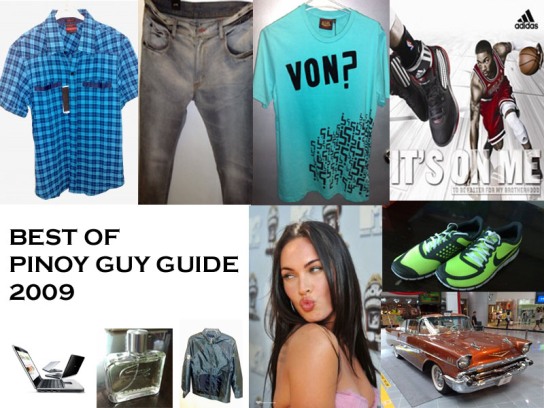 The year 2009 has been another fantastic year. So as the year comes to a close, let's have a recap on Pinoy Guy Guide's top posts for 2009.
1. Beware of gold-diggers in bars – this post created lots of talk over other blogs and even Plurk. It tells a true story of how some women are just after your wallet. Sad, but true.
2. Modern men's formal trousers – after I got tired of the usual slacks, I bought this pair of formal trousers which actually look like jeans.
3. Why being a "torpe" will never work – I remember I wrote this before Valentine's day this year. It's an enlightening article for the guys out there who are still thinking whether or not to confess to the girl of their dreams.
4. Von Dutch super thin shirts – these thin shirts are really awesome. It feels so comfortable to wear and if you are a gym rat, these shirts will be a plus point to you towards the ladies.
5. Gym Guide – the three posts below are a series of posts talking about the most popular gyms in the country:
6. Sneak Peak – a PGG contributor talks about three of the best shoe finds.
7. Merrell Shoes – I'm telling you that these has to be one of the most durable shoes I've ever worn.
8. Who's your Male Fashion Icon? – Jessie, a PGG contributor, wrote about three of the most popular icons today. So who's your icon?
9. What should a Pinoy Guy be able to do? The two posts below discuss them in full.
10. iPod and Creative have lots of competition on-going. This year we had iPod shuffle 3G as well as Nano 5G and Zen X-Fi2.
11. Ash Gray and Cloudy Gray Jeans for Men – if there is one type of jeans that became popular this year, it is none other than the gray jeans. I love them!
12. How to flash your killer smile – I always laugh when I remember this post. It's something I learned from a workshop. It's useful actually.
13. Bangs on guys rule – this type of haircut is popular. Thanks to Gatsby!
14. Korean Style Men's Jacket – I sold some of these at the PGG Store. Until now, I've been receiving praises for this jacket.
15. Plaid Polo is still in and is good for any occasion – plaids are nice. They have been around for quite some time and they are still in.
16. Would you drive a vintage car? – ahhh vintage cars. They are expensive and they really catch people's attention but would you want to drive one?
17. Speed Dating based on the experience of Tim – ever wondered what speed dating is like? Tim, a PGG contributor, shares his experience.
18. Is Megan Fox hotter than Angelina Jolie? – it looks like PGG readers had a debate on who's hotter between the two. Check out the comments to the post.
19. PGG's four picks on Men's Scents – if you are still lost on what fragrance is best for you, check out this post and try these scents.
20. When boardshorts are not just for summer – if you find it strange to wear boardshorts when it is not summer, then think again. Guys are now wearing them to malls!
21. The Game of Buying – Kilo, a very active member of the PGG Forums,  gives us some advices when is the best time to buy.
22. Men's Hair Wax with Hair Color – this new wax with hair color is a surefire hit especially if you want a new look.
23. Adidas Jeremy Scott: The shoe with wings – I haven't seen this in the country yet, but once I see them in actual, I think my jaw will drop.
24. How to NOT get into the Friend Zone – some guys just fall into the friend zone. Here are some tips how to not get into that dreaded zone.
25. Folding it up – don't know what to do with your old jeans? Check out this tip from PGG contributor Tim.
26. Nokia Booklet 3G: A netbook to drool for – this netbook is superb. I just wish it was a bit cheaper.
27. Multi-colored sleeves/cuffs and collar lines – these shirts from Topman and Mint MEN are the newest trend in shirts. Get yourself some.
28. Nike Free 5.0 v4 – the most stylish and most comfortable pair of shoes I've bought this year.
29. Pinoy Guy Guide and Adidas Christmas Giveaway – I'm very very happy that Adidas became a partner of Pinoy Guy Guide. This recently concluded giveaway helped boost the PGG Forums. I hope that many more sponsors will come so that there will be more giveaways! 🙂
30. Show Your Style Project – This project is one that I am very excited about. I wasn't expecting people to really participate, but I was surprised when I received entries in my inbox. I'm very thankful to everyone for making it happen. There are more Show Your Style entries to be posted so keep visiting the blog and keep sending your entries.
If you want to check the posts related to Show Your Style check out this link.


Whew, that was quite a long list of posts for 2009! I hope you found them to be useful, informative and even entertaining. I also hope that you will continue to participate and support PGG Projects in the future.
This time, let me hear your feedback. What topics did you like or did you not like? And if you have suggestions on how to improve the blog, please leave a comment below or contact me here. I am also on the look out for write-up contributors. If interested, send me an email at 

or use the form here.


Have a Happy New Year everyone! Cheers!


Subscribe to Pinoy Guy Guide by email or by feed to receive the latest updates.